To begin with, the well-known motto "O sport, you are the world!" Is forgotten, because today it sounds like "O sport, you are a profit!" Moreover, it's quite a good financial and political one. It is the political component that pushes the world's bigwigs from sports to the "exploits" that we are seeing.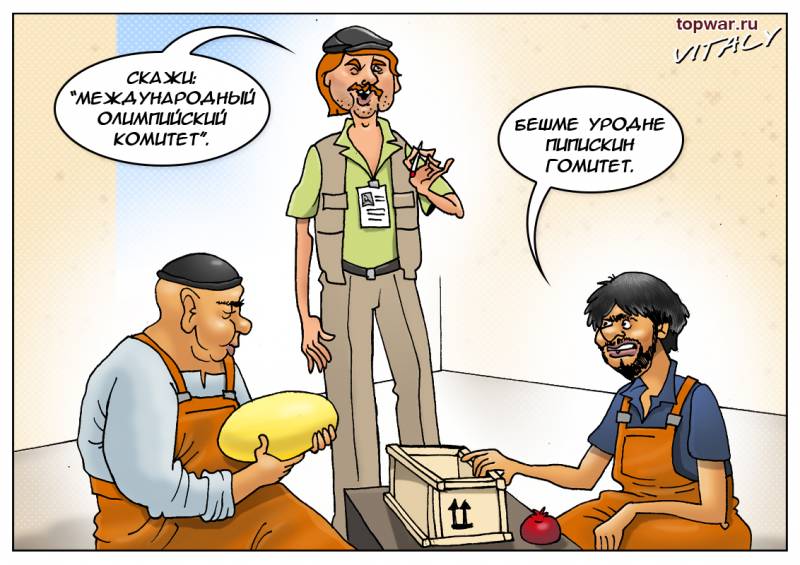 Well done in the west. They understand perfectly well that in Russia sportsmen are something like a national treasure. Especially great athletes, such as Karelin, Isinbayeva, Dementieva and others.
Therefore, they beat below the belt. Blaming without proof, but there's nothing you can do. First, we do not set these rules, we play for others, and second, we ourselves have given enough reasons for the accusations.
You know, I probably would sympathize with our athletes. The main majority, I hope, really became hostages of political games.
And it is clear why the figures from sports always and at all times were really overly picky to our athletes. We are all smart people, we understand where our legs grow from.
As for doping, then everything is outrageously simple. Big sport, in which huge money is spinning, is all built on doping. What kind of honesty can we talk about when such amounts are involved? That's just funny. A fairy tale for kids, such as about honest oligarchs or finance ministers.
I fully admit the possibility that all these dances around RUSADA are pure provocation of Western intelligence services against Russia. And the exposer of the "doping plot" Grigory Rodchenkov is a traitor, a scoundrel, a liar and a scum who creates trouble for Russia for full-fledged dollars and American citizenship. He is not the first such. And not the last for sure: fecal personalities in
stories
there is plenty of any country, and Russia is no exception.
But the reputation of our state, specifically those who rule the country (and here we are talking not about Putin, but about the legion that sits at a lower level) is such that to believe this legion, but at the same time the state media (we will not point the finger at television) - is not respecting yourself.
When the reputation of the leading media and TV channels in particular is below the baseboard, it is quite possible that there are also not quite honest people there. And that there just entrenched vile personalities and liars, and Rodchenkov - an honest man who decided to bring all of them in bulk to clean water.
May be? Is complete.
It is clear that in the West with the presence of the FSB in the doping fraud slightly outplayed. But they have made it this way for their own people: if there is a scandal, then special services must be mandatory. Otherwise, there is nothing to make a fuss. So it's crazy and stupid for us, and there it's just right.
But then forgive me if all of us are so white and fluffy, where are the disgraced and slandered champions-athletes and their coaches? I mean sports walkers. Quietly and without scandals and statements in the press who PSG wrote, who was fired, who hung the stud on the nail.
On the whole, everyone is innocent, the guilty have already been pushed away in the corners, it remains a surprise that we have so many complaints and regret about the tarnished reputation. Because after all caught some.
But reputation is difficult. Especially in the scale of the state. She, reputation, not from the ceiling falls. She falls without going into orbit through the fault of the storekeeper. She falls along with downed Su-24. And with the flow of Turkish mandarins, again flooded the markets.
Reputation is earned over the years, and is lost somewhat faster. Especially if it is sacrificed to the "hochunchik". Whose? Yes, too, everything is clear.
We want, you know, the Olympics. Or World Cup. The benefits will be the car. Roads, infrastructure, facilities. Well, as the road M4 gash to this Olympics, to tell, I think, do not. Skated on it repeatedly, a year later. Appreciated. Now for the World Cup remake.
And without the super show in any way? Just build roads, stadiums? Hotels? Sochi was the most expensive resort, and remained. Even more expensive.
Indeed, lordly games. Let's skolkov zapilim? And on time! The whole world will tell how cool we are. Have told. It remains now to give the mind and explain plainly why all this and how the money will fight back.
Well, such examples - the sea. As in the cartoon about Sharik and Barbosa: "I want to - I do nothing, I am lying on the sofa!"
I want - and the Academy of Zhukovsky and Gagarin goes to Voronezh. And the headquarters of the ZVO, the former MVO - in Peter. From Peter it is easier to lead troops in the Belgorod and Kursk regions, of course. And the leadership of the Navy away from the Ministry of Defense. Also in Peter. And the Constitutional Court there too. Moscow - she's not a rubber ...
And the money for all this is necessary. And here is Plato, here is the excise on gas, here is the tax. The Legion needs money for "hot chicks."
And when soberly (so far) you observe this nonsense, for some reason there is no desire to believe in the triumph of purity and justice.
But this nonsense multiplies and multiplies. As plans for medals at the Olympics. Do not be silly, no? It is clear that it is necessary to estimate the chances, you can even voice them. And always on Channel One so that the whole world can hear. And then, quietly so, in a half-whisper, when these plans once again cover themselves with a copper basin: "Well, I didn't bumble, I couldn't."
But you want the boyars before the king-father to report loudly. Say, here, were planning 12 gold medals, and took thirteen! We are great, just done everything and even exceeded it! Praise us king!
It would be for that — probably, I would praise ... But the trouble is not for anything. Never in my humble memory did not fulfill this stupid plan. Even in Sochi, it seems.
But with Sochi after the loud "success" of ours in Vancouver, the whole world thought: why is this all of a sudden? Native walls helped or what? Pondered and found "what else." Thanks to all.
It is clear that for once we have been given the opportunity to hold an Olympic show, we must show the whole world. At any price. Showed.
It is unlikely that Vladimir Vladimirovich so directly set the task (and maybe he did, I don't know), but at any price he fulfilled it.
And in the West, the knights of the cloak and the dagger saw that sport is also a "hot boy." Found, bastards, sore spot. And thrashed from the heart. And fall.
And there, in the West, do not care that everyone gets under the distribution. This is a war of one system with another. And it must either accept and accept, or ...
We turn to the second part. And what, in fact, to do when that's how it happens?
When I wrote all this, there was no solution for our team. But it is already clear what it was about. To white rag. The symbol of defeat. As in the past summer games.
Humiliating to ugliness. No country, no flag, no hymn. The third grade will admit, out of pity.
It is worth noting that under a white rag, which used to be the Olympic flag, you can perform:
- stateless athletes;
- citizens of unrecognized states;
- to athletes who cannot act under the flag of their country for political convictions.
Choose, as they say. For every taste.
And now there is a moment for which I spoke about the authorities. How they will behave. And how our athletes will behave who will be allowed to play.
I express an opinion (not only my own) that if the country's leadership does not agree with the political chaos that suits us under the guise of a struggle for the integrity and purity of sport, that Russia as a country simply MUST ignore such rudeness.
There is no Russian flag and anthem - there is no national team.
And here is a little such aspect. No team - no contributions to the IOC. Hang out further, fight for cleanliness with Williams sisters and consumptive Norwegian skiers and biathletes. At their expense.
In the image and likeness of the PACE need to act. Those won as they yelled when they were not given any money. Immediately thoughtful.
How does the IOC differ from the PACE? She still Sharashkin office.
They disqualify us for pride, we can afford them in dollars. And see who will take.
But for this, the ruling not steel testicles should be, and iron cores. But it will be a symmetrical answer. Yes, in this case, there are any other sanctions, but who will scare you with sanctions?
Of course, now there will be pink snot let some athletes. Well, we have been preparing all our life, but it's impossible ... Pity us ...
And here's a way out. If the money that is for participation from the IOC and sponsors-advertisers is due to each participant is more important than respect for the Motherland - not a question. There is a white rag for capitulators. Participate. No flag, no anthem, no homeland. For the loot. Forward.
An athlete who represents his country at games like the Olympic show is primarily a person representing his country. With all its attributes, whatever it is. We do not choose a homeland. So - a patriot.
An athlete who is willing to humiliate himself before marching under a white rag for the sake of his profits is not a patriot. He is not a member of the Russian national team, he does not represent Russia. He represents his interests. It is simply a participant in the Olympic Games. Mercenary for extras.
Let's see how much they understand this in the Kremlin. How many patriots are there. Especially before the election.
Already in many media began to argue that a lot of money the state has spent on preparing and creating the image of the country. Need to repel? Or maybe enough already?
In Skolkovo vbabahali more, if that. As well as in other "hochunchik".
But many have already begun to emit moans on the fact that the boycott of the Olympic Sabbath almost destroy our sport. Yes, it does not destroy the political boycott, but the fact that our officials from the sport, Mutko and Zhukov, do not want to do anything to protect normal athletes. And this whole crazy story with RUSADA is entirely on their conscience.
If we are talking about the fact that Russia is a great country, including in sports, then everything related to this and other issues should be considered only from this position.
All this devilry, which staged the enemies of sports with doping and exclusion, ends with an attempt to humiliate the whole country. The country is obliged to respond. The country is reacting. On sites and live broadcasts from 62% to 87% of respondents for a boycott of disgrace, by chance still bears the name of the Olympic Games.
Vladimir Vladimirovich, your way out!
Who, if not the president, is obliged to protect the honor and dignity of the country, which the scoundrels from sports are trying to trample in the dirt? Equate citizens of great Russia to stateless persons or citizens of unrecognized states? Replace our flag with an incomprehensible white rag? Anthem sad and slurred chant?
I hope that we will not hear anything like "athletes are not to blame." That's right, it's not the athletes who are to blame, your officials are to blame. Yours We did not choose them. For Mutko did not vote.
So, as expected, the IOC confirmed not only that
Russian athletes are ALLOWED to perform under a white rag
, but also the fact that there will be a special commission to select these lucky ones.
What she will be guided there, I do not know, but I know and understand that this is another slap in the face to us all. And, perhaps, pretty already. Enough to substitute the other cheek, everything is clear that the world and European championships will follow the Olympics. The occasion is created.
To the devil, this whole IOC, which was bought by politicians on the vine. And there are our contributions.
By the way, that's just the money saved and to put in support of those athletes who planned to earn extra money for a comfortable old age.
Since Russia still does not get anything from their speeches, except for moral satisfaction, the results will not go to any offset, then, in principle, there is nothing to catch there, on the Sabbath. All the same, they would sue, as they had previously sued.
Russia is obliged to answer precisely tough. Just send them all and boycott the games of the politicians. I really want it to be that way. How would another great country, whose "athletes" eat everything they give and perform, nonetheless. With impunity.
But greatness is not only impunity. Greatness is also in not becoming on a par with those who spit in your face. And do not sit on one hectare.
I hope that the leadership understands this, and we will see really decisive, tough and symmetrical measures.
The whole world must understand that the Russians really do not give up.