The main technical problem of the domestic aircraft building aircraft designers call the lack of low-cost engines of its own production on the market. The Director and Chief Designer of the Tekhnoavia Scientific and Commercial Firm Vyacheslav Kondratyev helped to clarify the problem to the Military Industrial Courier.
- Can we say that the creation of the aircraft begins with the engine?
- The creation of the aircraft begins with a specific need for it. There is a customer willing to pay money, and his wishes: I would like that. As a result, we write TK ourselves and not so much for ourselves, but for accessory companies, so that everyone can understand exactly what we are doing and how. The question of the engine can be put by the customer, or, which happens more often, I have to choose from the engines available to me the one that will best ensure the compliance of the aircraft being built to the requirements.
- Did you have to order the engine specifically for the projected aircraft?
- In my practice, there was one such case. When the border troops were commanded by Andrei Nikolaev, we proposed, according to their wishes, the first version of the now well-known SM-92 - with the M-14P piston engine, tested, reliable, and manufactured since the 50s. Then the leadership changed, small
aviation
it was liquidated by the border guards, and only after some time, when Vladimir Pronichev, who understood the significance of such aircraft, became the commander of the FSB border troops, we returned to cooperation with this department. Indeed, the border throughout, say, with Kazakhstan, is a huge open space, which you can't stock up on a carcass with julbars. And on these steppes, all and sundry are moving in cars, on donkeys and on other camels. Often with a load of drugs. A helicopter for patrolling is expensive, and its range is relatively small. A light aircraft is ideal. By that time, Czech gas turbine Walter M-601s, the same as those on the L-410, were already installed on our machines. Under the order, which required a domestic engine, we involved in the development of a similar motor company "Salute", which makes, among others, engines for the Su-27. We managed to bring the sample to bench tests, which it went perfectly, showed excellent parameters. A meeting was held on this engine - there were the deputy minister of industry, the general directors of TsAGI and TsIAM. We whispered and delivered a verdict that we did not need such an engine, and all work was stopped. So there is an engine, the TV-500C is an airplane version and with the letter B for helicopters, respectively.
- Why did you start creating a gas turbine engine, and not the usual piston for small airplanes? He is cheaper ...
"Because piston engines are not suitable for serious commercial operation." The M-14P mentioned was the only Soviet and Russian engine manufactured for small aircraft at the Voronezh Mechanical Plant. For aerobatic sports planes, no one has yet come up with a better engine.
- So what are the advantages of a gas turbine, if there is such a good piston?
- They can not be compared. The gas turbine engine has no vibration loads. It has no resource limits. The turnaround time for gas turbine turboprop engines we use is approximately 3500 flight hours. A piston has a designated resource, after the development of which it is simply thrown away. And the same 3500 flight hours are the designated resource for a very good piston engine. And during this time he must undergo at least two major repairs. So if the cost of using a piston engine is calculated on 10 thousands of flight hours, and the normal life of a light aircraft lasts about that, then it will turn out: the gas turbine will last for two years with two scheduled repairs, and I will need three piston engines, each with two major overhauls. And such repair costs half the cost of the engine. Arithmetic shows that operating an aircraft with a gas turbine engine is twice as cheap.
- And here's another diesel aircraft engines ...
- The Yak-152 initial training aircraft, specially commissioned specifically for flight schools, was equipped with a diesel engine, not ours, but the German one. Because of him, the military machine and rejected. Of course, individual comrades have a certain propensity for foreign procurement, but this has nothing to do with state interests.
- This is an army, what import can be, is not supposed to ...
- Nevertheless, Austrian "Diamonds" were purchased by the VKS as a training aircraft. Initially, they were produced with AI-450 motors by Motor Sich, a Zaporizhia-based company, but they were unsuccessful, and in the Czech Republic at the Walter plant, which already became the property of American General Electric, they ordered three hundred engines - exactly the same as our TV-500С .
- But the "Diamonds" even collected in Russia, is already a plus.
- This is not an assembly, but a dusting of the brains of all Russia, first of all, the Minister of Industry Denis Manturov. They brought it, showed the site - they say, they started production. In fact, they do not even carry out the final assembly, but the docking of parts after transportation is something that is elementary done in any flying club. So, no "Diamonds" in Russia are produced for one simple reason - for something quite recently, Okulov, the deputy minister of transport, who was in charge of all aviation, was removed from his post. God forbid, the situation will change. Or maybe not.
- And we are able to create, and there is a need, but we still buy ... Some devilry. There is a state program for the remotorization of existing An-2. Experimental machines are equipped with imported engines, but for sure the question will arise under this need to develop a domestic ...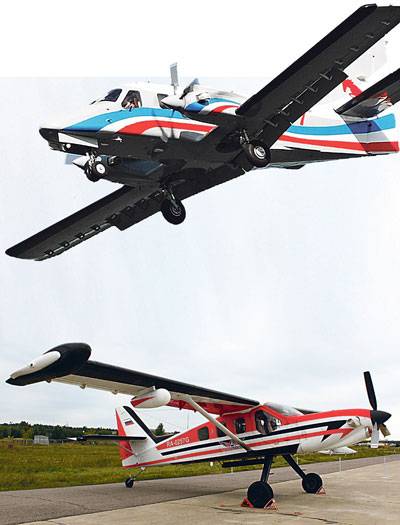 - On the An-2 there is an engine of a thousand horsepower - a little, more powerful is needed. But the time of this car has passed. An-2 - scary irrational aircraft. For comparison. An-2 - a thousand forces, carries ten people. "Cessna Caravan" - seven hundred forces, the same ten people, while the speed and distance twice as much. Our take-off weight is about six tons, the "American" has about three tons. That's what a rational plane is. Therefore, from the AN-2 nothing good for the current operating conditions can be done.
- What do we have from the engines for the most simple aircraft - those that must be in DOSAAF for the initial training in flight business?
- One private company in the Yaroslavl region seriously deals with these, however, they are made not for airplanes, but for much more popular now UAVs. Copied "Rotax", for five years already brought to mind and, I think, as many more are being carried. There is no other way to get a modern engine of domestic production. Although, maybe, we don't need our own engine of such a class: it's not a labor to buy "Lycoming" and it's not that expensive. We buy imported cars ... And it will not work out cheaper if we do it ourselves: everything goes more expensive than our analogues. But for the drones, no one will sell engines to us. In the West, these are often not even dual, but purely military products. Very high-tech and with many subtleties. The same turbocharger, allowing you to work at altitudes of the order of 10 thousands of meters. Such a turbine is very complex and the main thing is an expensive unit. No matter how hard we tried to do something like, say, in the same CIAM, nothing worked. There, in fact, science does not work anymore, many solutions are found exclusively by experience. Of course, we need to do this. But in order for things to go, the development of engines must be accompanied by one of the specialists in aircraft design, and those who are now busy with UAVs, for the most part, do not understand anything in light aircraft. That is, there are technical capabilities, but there are not enough brains. Unfortunately, we had a gap - the M-14T, which had been developed until now, had already left, but they did not have a shift. Accordingly, there is no school or tradition. Completely new people have come, who, if properly fed, will eventually become professionals. But not immediately, not now.
We had the experience of participating in the tender for the creation of a drone, and we decided to put on it the sixty-strong Honda HKS piston engines, light and very simple in appearance. There was an idea to buy one and copy it. They brought it, dismantled it at CIAM, and there it turned out some unknown ceramic coating of cylinder liners and pistons, we could not even determine the composition. Plus, a number of constructive aspects that we are simply not technologically able to repeat. Therefore, the talk that we had before was a good engine and let's reproduce it en masse now, is an empty case. He was good, but that's the level of 40's. Compare the Victory car engines with modern ones - they have a huge displacement, low revs, and a lot of weight. With aviation over the past half century, the same transformation took place.
- Automobile engines can somehow be adapted to the needs of small aircraft?
- We had this experience. Canadians bought a license for our CM-92, planning to equip it with their Orenda engine, created on the basis of the automobile, - an inverted V-shaped "eight", turbocharging, 650 horsepower. But the idea did not go - we made three flights on that plane, and each had an engine failure in the air. And compare: at the same time, in Smolensk, we installed the Czech gas turbine M-601 on our aircraft. The entire power plant, including the screw, weighs three hundred kilograms. The Orenda engine has a dry weight if more than a gas turbine, not by much. But to this we must add three radiators, a water-cooling tank, in which there are two buckets of water. A bucket of oil in the oil tank. And so one to one turns 600 kilograms. What is it done for? For fuel economy, but this is slyness. If you count at four o'clock flight, and this is the normal time for such aircraft, we get savings 100 kilograms. So much we save by excluding kilograms from the 200 payload, and these are two passengers along with seating and luggage.
- About the fuel, since we are already talking: what is more expensive, gasoline for piston engines or jet fuel for gas turbines?
- The price is about the same. But now they buy imported aircraft for training, since they do not work on our fuel, we have to carry them from Finland. Oil, spare parts - everything that is spelled out in the service regulations has to be taken from abroad. Just sit down for import.
- How do you see the range of engines necessary for the development of small aircraft?
- For the most simple aircraft - piston, 150 – 200 horsepower. This direction is still kept by the developers of unmanned aircraft. And then there is a minimal commercial aircraft that is profitable to use, which can be adapted to a variety of needs. This is about ten places and a gas turbine engine at least 700 forces. This is already able to replace the An-2. The engine, as I said, is, and the industry is quite able to master its production. Two types of aircraft are enough for regional aviation - a ten-seat single-engine and designed for 19 passengers with two of the same engines. Anything larger falls under existing government programs, and we will not discuss this.
- But you still use Czech engines ...
- The entire glider of our aircraft is made in Smolensk, and the final assembly - the installation of the engine, avionics, etc. - is performed in the Czech Republic. A special workshop was created there for this purpose, and at the expense of the Czech government, it is beneficial for them to have such production. The import of small planes by the efforts of some well-to-do comrades who buy personal aircraft and who have great opportunities to lobby any laws is not subject to duty, unlike engines and other components. Therefore, it is advantageous for us to import into Russia an already completed aircraft. But he is by all documents Czech. We will produce here and our own, it will turn out at least 15 percent more expensive. And someone wants us to compete with the West?
- Are jet engines applicable for the simplest aircraft?
- We also have such a development, called "Red Cat". Two jet engines with three hundred kilograms. Here in this office were representatives of the company that makes engines for Tomahawk cruise missiles. Similar ones with the same type are used in our X-55. Now similar engines are brought to perfection and on their base it is quite possible to create options for small aircraft. It is only necessary to add launch and thrust control systems that are not needed on cruise missiles. And replace the bearings to get an acceptable resource. A very profitable business for manufacturers of cruise missiles: the state defense order is not eternal and dual-use products are happy to be mastered by both our and non-our firms. If we also take into account that now engine-building companies earn much more on maintenance than on sales, the production of engines for civilian needs turns out to be even more attractive - the plane needs maintenance work, unlike Tomahawk. The Americans with a machine with similar engines was developed during the Vietnam War - "Cessna T-37", it was very successfully used as a light attack aircraft. The Ministry of Transport supported the idea of ​​creating such a training aircraft with two hands, but according to the existing norms it cannot allocate funding for development - just buy ready-made cars. Therefore, in the metal "Red Cat" has not yet appeared. But the main thing is that we have an engine for such aircraft, this is all the same Salutovsky TV-500. It can also be manufactured in a turboprop version, with a gearbox and propeller, as an analogue of the Czech engines that we use, and in the jet engine, having the C-52 index. It was developed taking into account the possibility of using on cruise missiles. And "Salut" is ready to return to the topic even now, there would be orders. There is a very clever director who is well aware that in case of any interruptions in military orders, the production of such products will help to load factory capacity.
- Engines are, planes are designed. Where is our small aircraft, which is so lacking in the regions?
- She is waiting for state attention and appropriate funding. We will do the rest.