I understand that reports from Kiev about how the former head of the Odessa region, Saakashvili, was running around the roof at a trot, were stained with teeth. But still ... After all, we are dealing with a truly amazing event of at least a regional scale.
An event in which the special interest is not so much the rat squabble in the box from under Ukraine between those who "love Ukraine more", but the reaction of foreign (primarily Western) politicians and the media.
During the day, the day before, when Mishiko was grabbed by representatives of the SBU, then supporters of a politician with a lost passport were snatched from their hands, Europe silently and, opening her mouth, watched. She was sent hot letters asking for immediate help from representatives of the Misha Rukh, concocted only a few months ago. Europe read the letters, but continued to silently look at what peripetias unfold "under the Rada", where the released Saakashvili, in one handcuff, walked as enlightened with a group of led comrades in Ruha.
And Europe was silent because she experienced an obvious "cognitive dissonance". Brain explosion. A kind of quadrature of the circle appeared before Europe - a misunderstanding of what is happening, and how it can be dealt with in general, and in general - is it necessary?
After all, it's like this: Mikhail Saakashvili is crystal honest, by European standards, a politician who, like Georgia, "saved from corruption". And this means that Ukraine, as it was believed in Europe, could lead to transparent police stations and to the traffic cops taking less than usual. But on the other hand, Petr Poroshenko Petro, who was promised full support back in 2014, who was given credits at the very best ..., and who in Europe, it seems, is synonymous with the new Ukraine. Of course, dissonance, because Europe initially saw these politicians in a close democratic bond, and here it is ... Saakashvili calls the presidential administration "OPG Poroshenko", he incites the Security Service in response, the SBU, in turn, tries to wash its hands, saying that its supporters are Saakashvili they beat off ...
This is the evening (from yesterday) reaction of the American embassy in Kiev — the same one, whose head (Marie Yovanovitch) just now demanded Poroshenko to restore the payments on the territories of Donbass in uncontrolled MAT, in full:
We know that Mr. Saakashvili was detained and that the protests continue. We call on all parties to de-escalate tensions and prevent violence. We are closely monitoring the situation and expect that any investigation will be conducted promptly and in accordance with the legislation of Ukraine.
With the legislation of Ukraine? Is this the one who doesn't care about the lists of the extremist website "Peacemaker", on which you can burn people and fire at your own fellow citizens, which does not contradict the endless succession of Maidans? In accordance with this legislation? .. Well, well ...
It is extremely interesting to observe the reaction of the major German media. Initially, they enthusiastically transmitted Saakashvili's statements of the following nature (quoted in
DW
):
We beat Yanukovych. We will defeat Putin. And we also win baryg.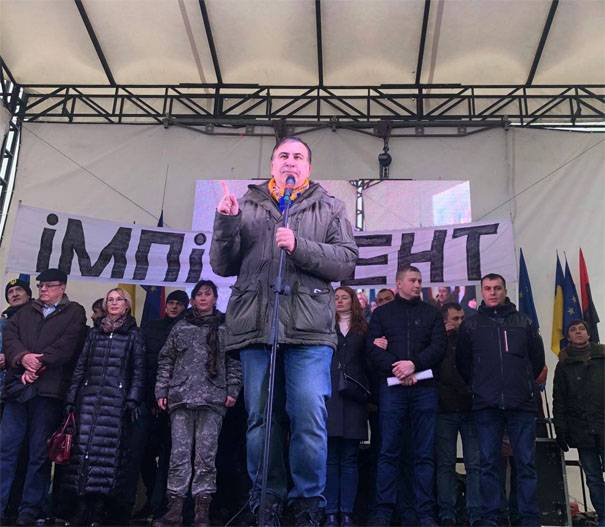 Then, when the Prosecutor General's Office of Ukraine announced that Saakashvili was rallying on the money of "Yanukovych's people", the German media tried to get out of the stalemate situation for themselves with remarks in the style of "the situation requires careful analysis." Of course, it requires, and what you thought. Now go and figure out who is the greatest democrat in Ukraine - Misha or Petya.
After all, it turns out that Yanukovych and Putin, who had just denounced him, are denounced by other people as an agent of Yanukovych, and, consequently, of Putin. And if so, then it turns out that in the center of Kiev, thousands of thousands of agents of Yanukovich and Putin throw stones at the police, opposed by the forces of law and order, who stand guard over agents of Yanukovich and Putin denounced by Saakashvili. Putin's agents against Putin's agents. Friends of Yanukovich against friends of Yanukovich. Well, you and I are not accustomed to such Ukrainian tricks, but in the very same Germany, sorry for the jargon, they are fucking away from this situation. Do you hear - a deaf shot? .. It was somewhere on the banks of the Spree shot by a German analyst on events in Ukraine ...
The media in France remind their readers that Saakashvili is a politician who became the president of Georgia during the "rose" revolution. At the same time, in the same France, for some reason, they decided not to touch on the information that the man who was in the presidential chair in the wake of the coup d'etat confronted him. Oh yeah, there was no coup d'etat in Ukraine, but there was a "revolution of dignity". Well, yes ... And who is more worthy in this case - the one with the thorns of "roses" or the one that "Ukraine is the Europa's trick, give gOShi"?
Who support in the information plan? - European experts are puzzled, realizing that Saakashvili is definitely "his", as he shot Russian (peacekeepers) in South Ossetia, and Poroshenko is also "his own", since he shoots Donbass on Russian to this day. Both aspire to NATO, both shout about the principles of democracy, the debt hangs only on Pete, and if Petya is changed, then Misha can (according to the Ukrainian tradition) declare that this is not his and Ukraine's duty, but Poroshenko's debt ...
Saakashvili, meanwhile, continued to burn the verb:
I will lay my life for the freedom of Ukraine and for liberation from baryg, oligarchs.
I want to urge all of Kiev to take to the streets, get together on the Maidan, and begin the process of freeing Ukraine from Poroshenko and his gang. There are millions of us. I sat in a paddy wagon with a SBushniki, they do not like them ... the whole way SBushniki cooked about Poroshenko hucksters. Therefore, do not be afraid.
You are strong, you are very strong. You are a great people. You will not let these barygam manage you.
I will stay in Ukraine, die for Ukraine, live for Ukraine, because I am obliged not only to return to Ukraine, but I also owe you my freedom. My life is your life. My life is yours.
I propose to go together to the parliament of Ukraine and demand from them an answer for the humiliation of the people and demand the impeachment of the president of Ukraine. I urge everyone to join. There should be a lot of us - and we will force them to send Poroshenko and his gang to resign. Forward!
An important remark: the Security Service of Ukraine "goes" under the American special services, and if what Mishiko said about the attitudes of the Security Service of Ukraine is really at least ten percent, then Europe needs to be told - do the delivery to Misha, because to Misha, apparently, he puts The CIA is your masters ... Otherwise: a) how would he end up in Ukraine after fleeing, b) who would give him the Maidan expanses for several months already, c) would he be freed from the strong embraces of the Ukrainian special services? ..