The center of Kiev once again turned into one big battle scene. People pull the cobblestones out of the pavements, throw them into the national police, set fire to the flares, erect barricades. The clashes began in connection with the arrest of the former head of the Odessa Regional State Administration by Mikhail Saakashvili by the security service of Ukraine.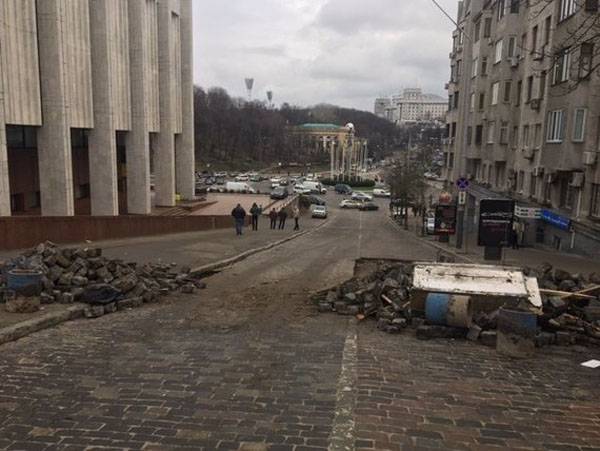 Fresh reports from the center of Kiev are as follows:
Near the building of the Verkhovna Rada are (according to law enforcement) about a thousand protesters in support of Saakashvili, who is accused of trying to revolt in order to seize power with funds from the "people of Viktor Yanukovych". Police outfits and employees of the National Guard of Ukraine were pulled to the IUU building. In some parts of the "front" there are at least at least the protesters themselves. Police use rubber batons and tear gas.

The Rukh New Forces party, which was formed in Ukraine by Mikhail Saakashvili several months ago, sent appeals to international institutions, including the Parliamentary Assembly of the Council of Europe, the European Parliament and the European Council, asking them to pay attention to political persecution in Ukraine. No response has been received from European political structures at the moment.
The Minister of Internal Affairs of Ukraine (long-time opponent of Mikhail Saakashvili), Arsen Avakov, called on the former head of the Odessa Regional State Administration to stop the "insinuations" and appeal to people to observe the rule of law and go home. And why, in that case, did the people of Avakov himself not observe the law and did not go home to home in February 2014?
TASS
cites a statement by Franz Klintsevich, a representative of the Federation Council of the Russian Federation, regarding today's events in Kiev:
The current Ukrainian government, born by Maidan, having suspected Mikhail Saakashvili in an attempt at a coup d'état, has carved herself out.
The Facebook page of Mikhail Saakashvili continues to issue footage of the protest movement in the central part of the Ukrainian capital.
The protest action was picked up by "ATO veterans," who said they were giving President Poroshenko 72 hours to carry out anti-corruption reforms and decide on benefits for combatants in the Donbas.