A solemn launching ceremony for the hydrographic vessel Ilmen of the 11982 project (construction No. XXUMX) took place today at the Leningrad Shipbuilding Plant Pella. The shipbuilding customer is the Main Deep Water Research Department (GUGI) of the Russian Ministry of Defense.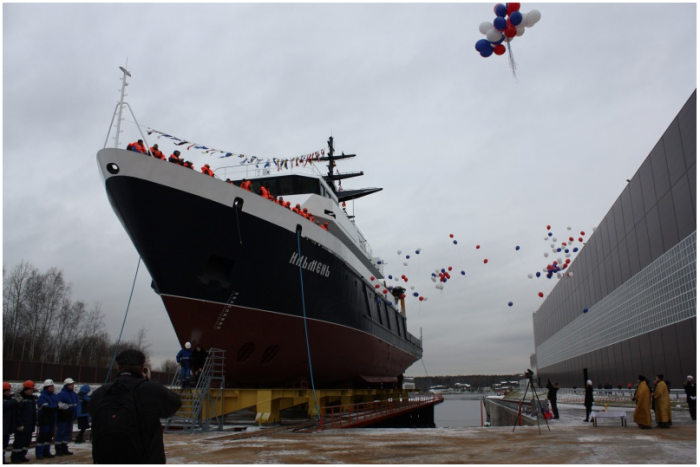 The vessel belongs to the type of auxiliary
fleet
and is intended for testing special technical means, for participating in search and rescue operations, as well as for conducting research and oceanographic works.
The laying of the ship "Ilmen", being built by order of the Main Directorate of Deep-Sea Research (GUGI) of the Ministry of Defense of the Russian Federation, took place in December 2014. Project developer - Almaz Central Metallurgical Bureau
Maximum length - 63,8 m
Width is greatest - 10,8 m
Draft - approx. 3,8 m
Speed ​​- approx. 12,0 knots
Class Ice 2 - Arc 5 1 AUT 1 FF2 WS Russian Maritime Register of Shipping.
Navigation range - 1000 miles
Autonomy for reserves of supplies and fresh water - 20 day.
Crew - 16 people.
Expedition - 20 people.