All-Russian Public Opinion Research Center held
interview
among Russian citizens on the subject of which countries in the Russian Federation are considered the most friendly and most successful in the CIS. There was no sensation, and the majority of Russians called Belarus and Kazakhstan the most friendly countries for Russia.
64% of respondents named the Republic of Belarus as the main partner of Russia, while Kazakhstan responded to the same survey with 57% of respondents. It should be noted that it was possible to give a multiple answer, indicating three countries. VTsIOM reports that in relation to Kazakhstan it
historical
maximum for the entire duration of such studies.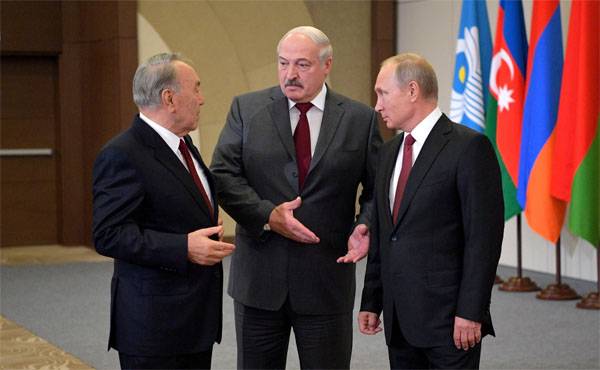 The worst partner in the CIS respondents called Ukraine. For reference: Ukraine practically does not participate in the activities of the CIS structures, however, it still legally is in the Commonwealth and enjoys certain benefits - for example, in cross-border transportation of goods across the CIS territory. Ukraine has only 1% of votes.
The most successful and stable CIS state (excluding Russia) by the polled VTsIOM experts called Belarus. For it, 60% of respondents gave their votes. 40% - from the Republic of Kazakhstan.
Belarus and Kazakhstan were also named by those CIS countries where the rights of the Russian-speaking population are best protected - 66% for Belarus, 38% for Kazakhstan (despite the initiative of official Astana to change the Cyrillic alphabet to Latin).
There was a question in the study:
Which of the following leaders of the following countries gives you the most confidence?
Listed the leaders of the countries of the former Soviet Union.
The top three are Ilham Aliyev (12%), Nursultan Nazarbayev (56%) and Alexander Lukashenko (62%). Outsider - President of Ukraine Petro Poroshenko - 1%.