The cadre bodies of the Central Military District, whose territory reaches half of Russia, continue to search for military personnel who, for one reason or another, have not received well-deserved awards. December 4 in the military commissariat of the Saratov region held a solemn transfer of daughters and granddaughters of the Red Army soldiers Nikolai Putin and Prokopy Samoilov of certificates to state awards, to which they were presented more than 70 years ago, the press service of the district said in the address of "Military Review"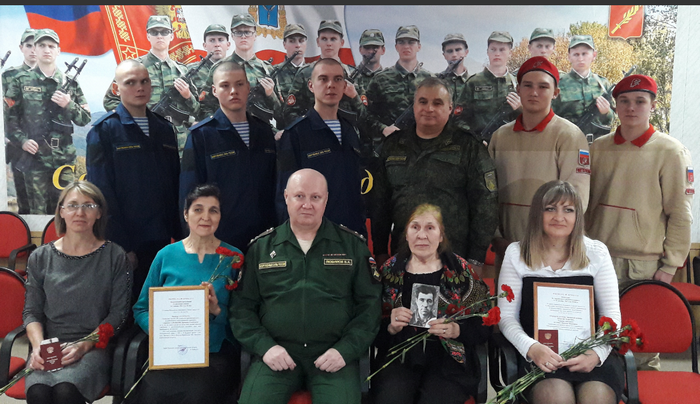 Lieutenant Putin was posthumously presented to the Order of the Patriotic War, II degree for courage and resilience shown in 1943 in the battles near Leningrad for Sinyavino heights. At the time of the counterattack, the Germans with numerically superior forces stubbornly repelled several counterattacks, after which they threw grenades against the Nazis, shouting "Hurray" with a group of fighters and threw themselves into a hand-to-hand fight, drawing the fighters to their example. Being wounded, he did not leave the battlefield until he completed the task, firmly entrenched in his frontier
- it says in his award list.
Sergeant Samoilov was presented to the Medal of Courage in 1944, when he destroyed four heavy machine guns in a battle with the fascist invaders and burned an armored vehicle. But the medal was never awarded. In 1970, Prokopii Semenovich died without knowing about his reward.
The press service notes that only in 2017, 14 veterans received front-line orders and medals, another 182 relics were transferred to relatives of soldiers and officers of World War II, who did not live to see this day. Great help in the implementation of award solutions provides electronic resource "People's feat" on the website of the Ministry of Defense of Russia.