At the large-scale US-South Korean air force Vigilant ACE exercises that started today in South Korea, the US Invisible Fighter F-22 was unable to reach the hangar after landing, which required calling a special tractor. The US military has not yet commented on the incident.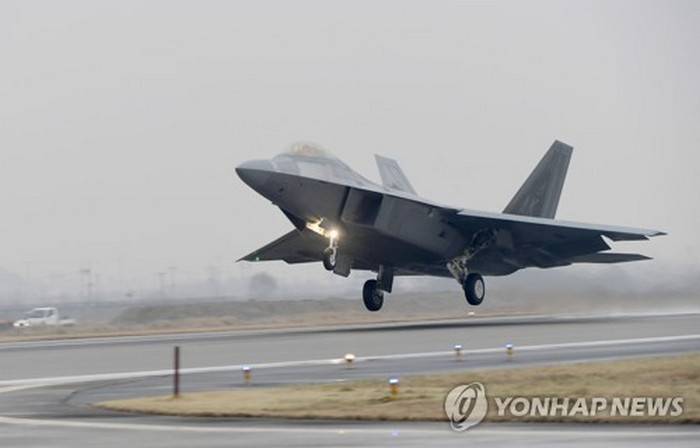 As reported by South Korean media, the incident occurred at the Air Force base in the city of Gwangju, where some of the American combat vehicles participating in the maneuvers are now based. Four of the newest US Air Force F-22 Raptor fighters in 8 hours of the morning as part of the exercises flew to perform the task, and after an hour and a half returned to the airfield in Gwangju. Three aircraft then independently proceeded along the runway to the hangars, and one F-22 remained standing on the airfield at the end of the strip. After a while, a tractor pulled up to him, which had already taken the plane in tow and brought it to the hangar. There were suggestions that the fighter had any problems. The South Korean military found it difficult to explain the cause of the incident.
As far as I know, all four F-22 aircraft landed safely. Why one of them had to be towed and why he was standing on the runway is not yet clear
- quotes the news agency "Enhap" words source in the Ministry of Defense of South Korea. Representatives of the US Command in Korea also did not explain the incident.
Recall that today in South Korea launched a joint US-South Korean air exercises Vigilant ACE. Although the maneuvers are annual in nature, but this year they are held on an unprecedented scale. A total of 230 aircraft are involved on both sides, including about US 50 aircraft. At the same time, the Americans assembled the fifth-generation stealth aircraft of the Fifth Generation 24 F-6 Raptor, X-NUMX F-22 B Fighters and 12 F-35 A fighters to South Korea for the trainings, reports Rossiyskaya Gazeta