The carrier of the Navy of the People's Liberation Army of China (PLA) for the first time will go out to sea and will begin sea trials in December of this year. According to the Sina information portal on Monday, the main work on the ship has already been completed.
According to the portal, a radar station with an active phased-array antenna (AFAR) 346A was recently installed on the ship, with which the destroyers of the 052D project are equipped. December 3 over the aircraft carrier were seen clouds of smoke, which may indicate the launch of the power plant. As Sina points out, the ship will take to the sea on December 10 or until the end of this month.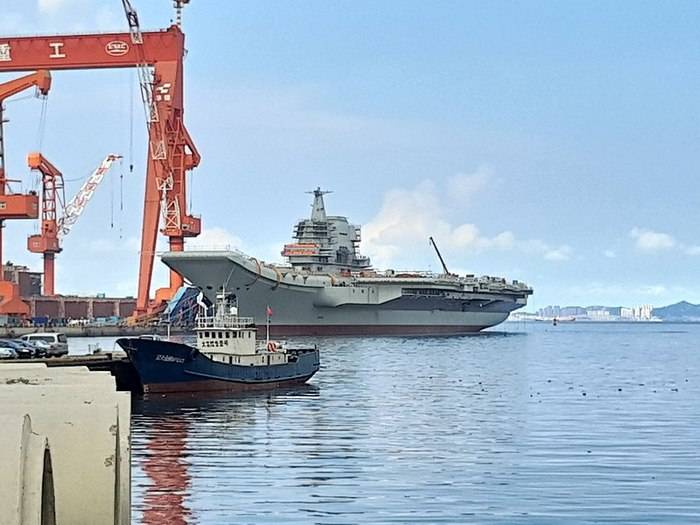 The aircraft carrier is the first ship of this class, fully built in China. He has not yet received the name, but is known in the Chinese media as "Shandong" or the 001A project. The ship was launched on April 26 of the current year and initially should be transferred to the military, according to some estimates, no earlier than in the 2020 year. However, according to the Hong Kong media, Beijing intends to accelerate this process and put the PLA Navy aircraft carrier in place by the end of 2018.
Since 2012, China has the only operating aircraft carrier "Liaoning", which was made on the basis of the former Soviet heavy aircraft carrier "Varyag", bought from Ukraine in 1998 year. The ship of the 001A project was built on the principle of "Liaoning", but has several large dimensions and a number of modifications.
In February, Hong Kong media reported that China is simultaneously building its third aircraft carrier, the 002 project, which is a completely new development. According to expert estimates, steam catapults will be installed on it, while on Liaoning and the 001A project only take-offs of the aircraft are planned to take off from the springboard. The ship will be equipped with a conventional power plant, and its displacement will be about 85 thousand tons, reports TASS