The main tests of the Ka-52K Katran deck helicopter are completed, no fundamental difficulties are expected with the completion of this work, reports
Interfax
a message from Sergey Mikheev, General Designer of Kamov JSC.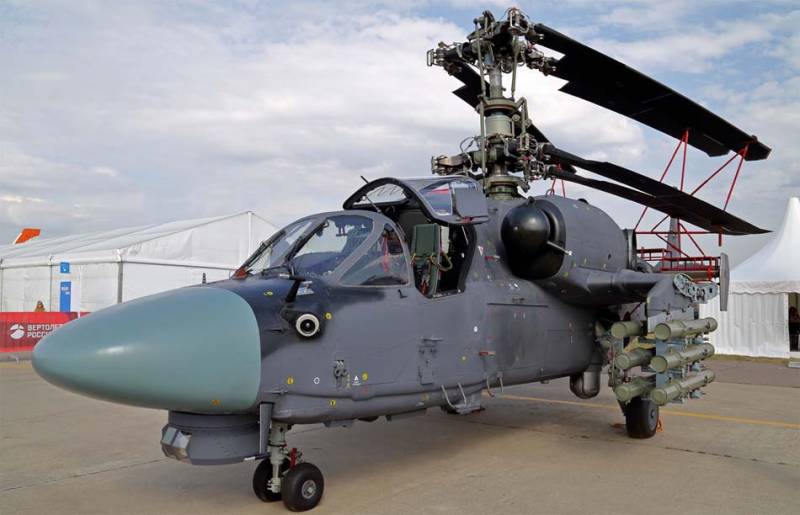 Ka-52K "Katran" was created on the basis of the attack helicopter Ka-52 "Alligator".
It is important that we completed the state tests of the helicopter in the interests of its main purpose; this is the main thing
Mikheev told the agency.
According to him, basically the helicopter will be used "for strikes against ground forces and means."
We have completed ground tests, and in terms of use in the interests of the Navy, we are not going to seriously rework something. We do not expect any fundamental difficulties in completing this work, especially since participation in the last campaign touched all aspects of the mission of this helicopter and passed with good success. There were flight and shock tasks,
said the general designer.
Earlier, the agency reported that "Katran" made successful test flights as part of a cruise to the Mediterranean Sea of ​​the heavy aircraft-carrying cruiser "Admiral Kuznetsov."
In August, Andrei Boginsky, director general of the Russian Helicopters holding, noted that Katran is in the final stages of testing and the union is ready to begin mass production in the coming years.
It is reported that the Ka-52K differs from the basic model "by the presence of a shortened folding wing, which was modified to accommodate heavy weapons, and a blade folding mechanism, which allows it to be placed compactly in the hold."
"Katrans" are intended for patrolling, fire support of the landing force troops when disembarking, and the solution of anti-landing defense tasks at the front line and tactical depth.