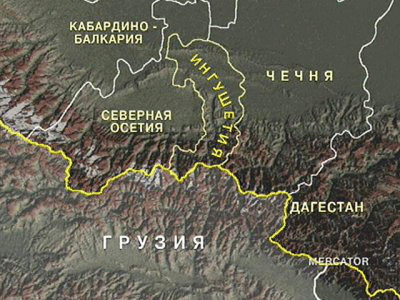 Newsru.com
. In Ingushetia, during the special operation, two terrorist attacks were prevented - two suicide bombers were in the car of the killed militants. This is reported by ITAR-TASS with reference to representatives of the Information Center of the National Anti-Terrorism Committee (NAC).
The report says that the FSB and Interior Ministry forces around 20: 45 on the street in Nazran tried to stop and block the car in which the criminals moved. Those opened fire from machine guns, but as a result of the clash they were injured incompatible with life.
In the car were found the bodies of five militants. According to preliminary data, one of them is Salman Gardanov, 1989, who was born, an active member of the so-called "Nazran" gang. The identities of four more neutralized bandits are established.
The face of one of the bandits was covered with a special mask. On the bodies of two of them — men and women — the bomb technicians of the FSB of Russia found "suicide belts" set to be non-recoverable. According to experts, their total capacity is about 5 kilograms of TNT.
The special operation was carried out after the law enforcement agencies received information from the residents of the republic today: the underground plans to commit terrorist attacks by self-attack. Operational officers of the FSB of Russia established the routes of movement and the vehicle of suicide bombers.
The machine also found a Kalashnikov assault rifle and ammunition. There are no civilian casualties and no casualties among law enforcement officers.
The NAC noted that operational information about Gardanov's involvement in the preparation and the killing of an officer of the UFSB of Russia for RI 30 in March of the current year is currently being checked. "Then in Nazran, UFSB officer Ruslan Yandiev was killed as a result of a car crash.
In Dagestan, too, there was a battle, killed employee of the Internal Troops
Against this background, the more disturbing reports of the NAC come from the Sergokalinsky district of Dagestan. A group of militants is blocked there, three of them have been destroyed. An employee of the Interior Troops of the Ministry of Internal Affairs of the Russian Federation was also killed.
As part of the counter-terrorist operation regime, a forest area near the village of Kadirkent was blocked. During the ensuing armed clashes, three members of the gang were destroyed. Supposedly, they were part of the so-called "Sergokalinsky" gang headed by the Turkish mercenary "Muhannedom", known by the nickname "Sheikh Abdusalam".
"This gang has been involved in a number of terrorist crimes, attempted murders and killings of civilians and police officers," the NAC said.
Meanwhile, the NAC reported on the destruction of three more militants near the village of Kadirkent on Monday. They also belonged to the "Sergokalinsky" gang. The two killed militants identified - this is Rashid Gazaliyev, a native of Kazakhstan and his cousin Magomed Gazaliyev.