Militants of the Islamic State terrorist group * were allowed to withdraw from Syrian Raqqa at the request of the United States to resist the Syrian government army in Deir ez-Zor, said former spokesman for the Syrian Democratic Forces (SDF) Talal Silo, who fled in mid-November to Turkey
Earlier, the BBC, a British television and radio corporation, reported that Arab-Kurdish SDF troops supported by a coalition led by the United States ensured the withdrawal of Iq * fighters from Rakka around 250. The Permanent Mission of Syria to the United Nations stated that the US-led coalition was ensuring the withdrawal of IG militants * from Raqqah and Deir-ez-Zor during operations to free settlements. The corresponding letter was sent to the UN Secretary General and the Chairman of the Security Council.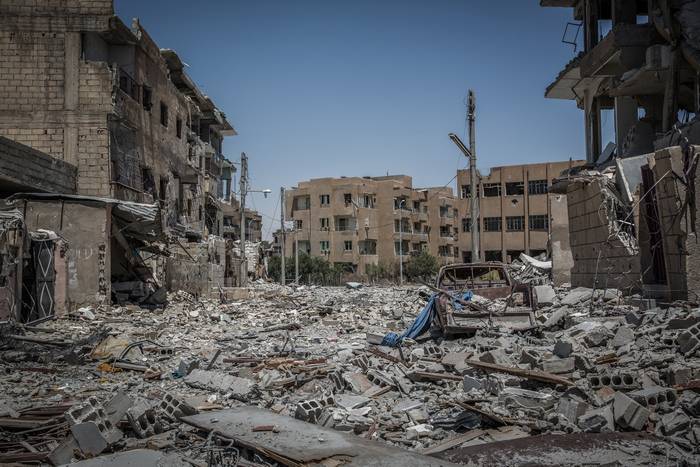 The Pentagon confirmed the withdrawal from Raqa about 300 of IG militants * as part of the agreement reached between the SDF and the city council, but rejected allegations that a US-led coalition was one of the parties to this deal.
The Americans believed that the units of the regime (Syrian President Bashar) Assad would advance to Deir ez-Zor in six weeks. But when it turned out that the forces of the Assad regime were moving even faster, the United States demanded that the SDF enter into negotiations with the IS *. Thus, the terrorists had to get out of Raqqah and go to the town of Al-Bukemal in the province of Deir-ez-Zor, located near the Syrian-Iraqi border, and prevent the promotion of the regime of Bashar al-Assad. Negotiations were held to allow 3,5 withdrawal thousands of terrorists
- said Silo in an interview with Anadolu.
According to him, in order to cover this operation, a "theatrical" scenario "was played out with the surrender of 275 to the militants of the IG *, for whom they gave out a group of people from Ain-Isa camp.
According to him, Rakka is not the first place from which the IG terrorists were withdrawn, having agreed with them. He added that the same agreement took place in the Tabka area near the Euphrates River, when the US allowed to organize a safe corridor to get out of the city of 500 militants IG *
weapons
and ammunition that redeployed to Rakka, as well as the liberation of Manbij, when two thousand militants of the IG * left the city under the guise of civilians, reports
RIA News
Islamic state * (IG *) is a terrorist organization, banned in Russia