There are reports from Syria about the start of a large-scale offensive operation by Syrian government forces in the northeast province of Hama. The main goal of the offensive is the liberation from the terrorists of the city of Al-Rahyan. The operation involved the soldiers of the 3 division, the advanced units of which took the position of terrorists in the area of ​​farms located on the outskirts of the village.
The Syrian Arab Army (SAA) today launched a powerful attack on jihadist positions to capture the strategic city of Al-Rahyan in the north-eastern part of Hama province.
After several hours of fighting, the divisions of the third division of the CAA broke through the defenses of the jihadists on the southern approaches to the city. According to updated data, the fights against the CAA in this area are conducted by the groups that are part of the terrorist organization "Dzhebhat al-Nusra" (* banned in the Russian Federation).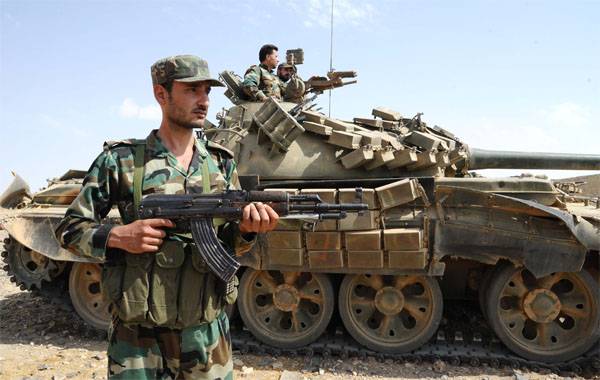 Noteworthy condition
tank
which SAA uses in battles
This is the second attempt to take control of Al-Rahyan by the Syrian army. Last weekend, the militants managed to regroup and strike back, forcing the CAA to retreat.
Information resource
AMN
Recalls that Al-Rahyan, captured by terrorists in 2014, is the hometown of the Minister of Defense of the SAR, which makes the Syrian army an operation to free the village of honor and special importance.
From the statement of one of the officers of the Syrian army:
We will fight in the east of Syria, in the west, in the north and south - no matter where. The main thing is that we have set ourselves the goal of eradicating terrorism in our land. And we will achieve this.