In the near future, Russian army units will be replenished with improved
Tanks
T-80BVM. On this radically modernized equipment will be installed new fire control systems, more reliable armor protection, improved guns and engines of increased power. As a result, the ground forces of the Russian Federation will receive combat vehicles, which in their characteristics will correspond to the latest foreign models.
According to military experts, to ensure the effective use of these tanks, it is necessary that they be supported by equipment created on the same basis. For example, if we talk about armored repair and recovery vehicles, then there is no better candidate than Omsk BREM-80U. This is the only tractor in the world that has a gas turbine engine, its power reaches 1250 HP.
Also available is an auxiliary GTE with a capacity of 24,5 l. s., which provides power for repair equipment.
Weighing in 46 tons, the tractor can reach speeds of more than 70 km / h on the highway. The maximum speed over rough terrain is within 60 km / h, the average speed is up to 45 km / h. The machine has high permeability, the angle of elevation reaches 32 degrees, roll - 30 degrees.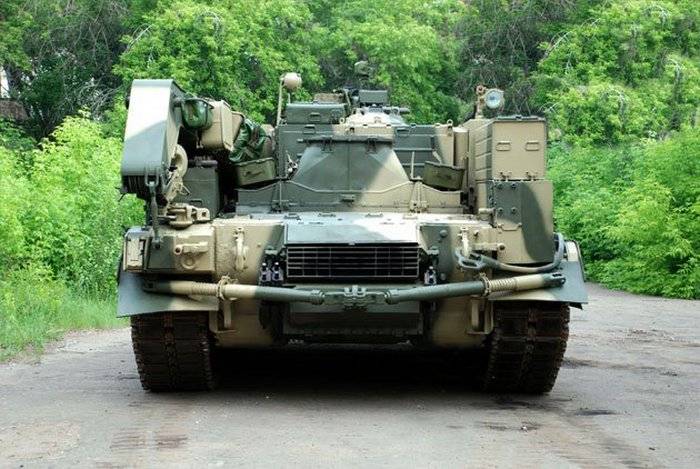 BREM easily overcomes a ditch wide in 2,8 m and a wall high in 85, see. Depth of a ford, which the machine is able to force without preparation - 1,8 meter. With special equipment it is possible to cross the river to a depth of 5 meters, without restrictions on the width of the water barrier.
Power reserve - 500 kilometers on dry dirt roads. If we consider the possibility of working on the ground for up to three hours, then this parameter is reduced to 350 kilometers.
On the tractor mounted crane 18 t and 25 t - using a polyspast. The existing winch has traction force in 35 ton-force, with a fourfold polyspast - 140 tf. The length of the main cable reaches 160 meters, the auxiliary cable spins up to 320 meters.
At BREM-80U mounted a variety of equipment, including welding, which allows for high-quality repairs in the field.
For self-defense mounted machine gun caliber 12,7 mm. The crew has a 4 man.