Crimea and Taman will be fully connected by spans in the automobile part of the Crimean bridge until the end of 2017. About this on Monday told reporters the deputy general director of infrastructure projects LLC Stroygazmontazh (contractor for the construction of the Crimean bridge) Leonid Ryzhenkin.
In our nearest plans - and this is the end of December - to connect completely span structures with fairway sections <...> it will be possible to walk from the Taman coast to the Kerch one, but the builders. There is only one span left from the Taman side, and the same amount of work from the Kerch side
- said Ryzhenkin.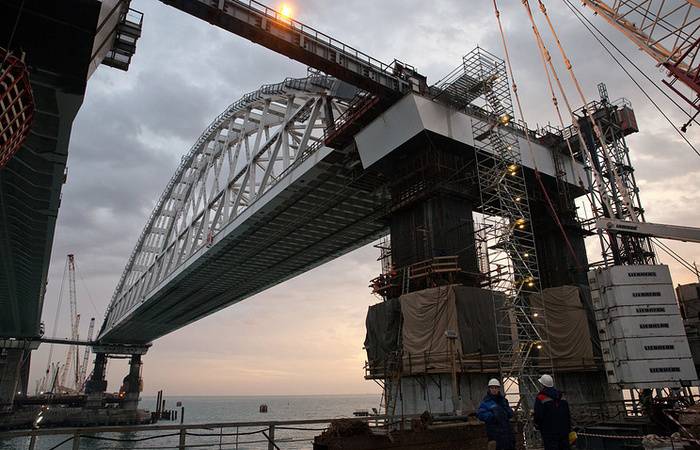 He explained that the process of advancing spans goes more than a year. It includes the assembly of spans on the berths and their further connection with the help of powerful jacks on the bridge supports. Now all 228 supports of the road part of the bridge have been built, of which 85 supports are located in the water area. The roadbed under the road is a thread of metal structures almost 17 km in length (the road in the section for interfacing with the Kerch coast goes along the embankment), their total weight is more than 100 thousand tons.
From the Taman coast, we have already pushed over 20 thousand tons of metal structures, about the same from Kerch, and somewhere in December 15-20 we plan to close the fairway from the Taman coast, the same works are being done from the Kerch side, today there are stacking the work sites are at the final stage, and at the end of December we will also move the span structures from the side of Kerch
- added Ryzhenkin, explaining that further there is a lot of work on the arrangement of the automotive part of the bridge.
In this case, the builders of the Crimean bridge have already begun to lay asphalt pavement on the road part. According to the builders, on the part from Taman to Kerch the lower layer of asphalt concrete is laid on 8 km of linen, the upper one is almost 7 km, and in the direction from Kerch to Taman the road workers laid the lower layer of asphalt concrete on 5 km of road, the upper one on 1,6 km. Simultaneously, builders are arranging drainage systems, local sewage treatment plants, working on engineering networks.
The Crimean Bridge is the most important infrastructure facility that will connect Crimea with mainland Russia by road and rail, its length will be 19 km. Road traffic on the Crimean Bridge will be launched in December 2018, the railway - in 2019. Romanov Novikov, the head of the Avtodor "Taman" Rosavtodor, told reporters that the representative of the contractor is now "the total amount of work on the road part is done on 95% and on the railway part more than half"