VKS RF provided relief from terrorists of the eastern part of the province of Deir ez-Zor, the 40 militants laid down
weapon
and surrendered CAA in Dar'a. Reports about it
FAN
with reference to Syrian sources.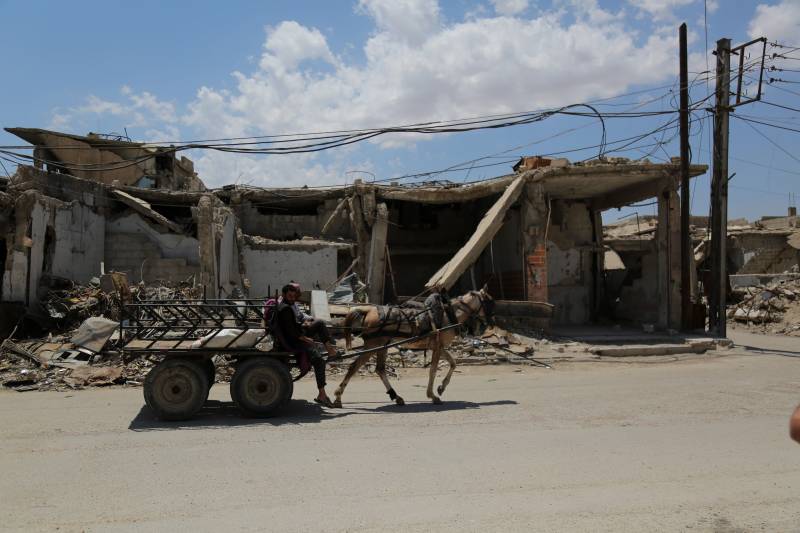 Radical opposition groups continued to fire at Damascus. Under the fire of militants over the past day suffered three civilians in the Syrian capital. In the Beit Jinn region in the western province of Damascus, the confrontation between the Syrian Arab Army (CAA) and the radicals, which attacked the positions of the CAA, was renewed. In response, government troops began shelling enemy fortified areas.
The Russian Space Forces together with the Syrian air force attacked militant areas in the vicinity of the Ramla and Maisila settlements in the south of Aleppo province. Clashes in this part of the region continued throughout the day.
Soldiers of the Syrian army found a warehouse of weapons and ammunition of the IG group (banned in the Russian Federation) in the area of ​​the city of Palmyra (Homs province). Several mortars and anti-tank installations were found, as well as mortar shells.
The Darren settlement in the southeast of Deir ez-Zor passed under the control of the Kurdish militia. Promotion of the Syrian Democratic Forces (SDF) in the region is provided by the Western coalition air forces. In the middle of the day, the representative of the SDF command stated that the eastern part of the region was completely liberated from the IS. He noted the contribution of the Air Force to the international coalition, as well as the Russian Aerospace Forces to the victory over the terrorists. The Syrian Arab Army (CAA), with the support of Russian pilots, liberated from the IG the villages of Hurayta, Abbas, Mazra'at Shamu and Al-Kut. In the afternoon, the CAA strongholds to the west of the village of Salihia were attacked by a suicide bomber. Thanks to the operational reaction of the soldiers, the military managed to avoid significant losses. However, the militants managed to destroy the tank government forces.
Forty militants of the radical opposition, operating in the village of Al-Lujat, Dar'a province, laid down their arms and surrendered to the government forces.
In the administrative center of the province of Rakka, another mine exploded by the ISIS terrorists during the retreat from the village. The incident killed several SDF fighters. Earlier it became known that over the past 10 days as a result of the detonation of explosive devices laid by terrorists in Rakka, more than 50 civilians died.
The Syrian Human Rights Monitoring Center (SOHR) published statistics on its website, according to which, in the campaign against Dzhebhat an-Nusra (a group prohibited in the Russian Federation), in the north-east of Hama, the Syrian army last week of the order 156 radical Islamists.