In the area of ​​the last connection to the Argentine submarine San Juan, a Russian remote-controlled deep-water submersible discovered an object that was initially mistaken for a missing submarine. After research, it turned out that we are talking about a fishing vessel sunken at a depth of about 950 m. Information was confirmed by the head of the press service of the Argentine Navy, Enrique Balbi.
After the discovery of a fishing vessel, which sank a few hundred kilometers from the coast, representatives of the Argentine naval forces received another version of the reasons for the loss of the San-Juan diesel-electric submarine. This version reads as follows: San Juan diesel-electric submarines could have touched any of the sunken objects with a hull at a relatively shallow depth, which led to fatal damage to the casing and almost instantaneous filling of the submarine's internal space with water.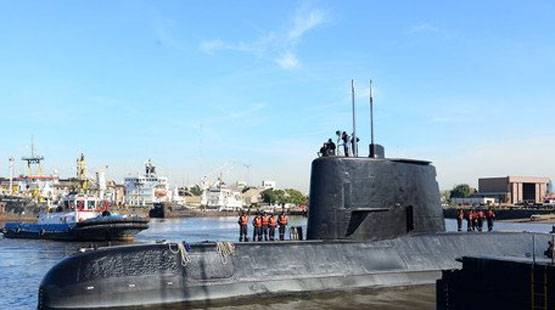 It does not indicate whether there are any bottom areas in the submarine feed area of ​​the last communication signal that are at a depth that would correspond to the depth of a submarine of this type. Neither is the commentary given on why the submarine "did not notice" the obstacles in the way.
Meanwhile, in the Argentine segment of social networks, they are still discussing the version that the San Juan diesel-electric submarine could have been a victim of the use of weapons by a foreign submarine. The most frequent accusations are against the UK, with which Argentina argues for the Malvinas (Falkland) Islands.