The decision to suspend work on the creation of the Barguzin railroad missile complex (BZHRK) may be related to the optimization of the defense expenditures of the Russian Federation, but it may be revised due to the exceptional importance of this project to maintain the strategic balance of power with the United States, reports
RIA News
statement of the chief editor of the magazine "National Defense" Igor Korotchenko.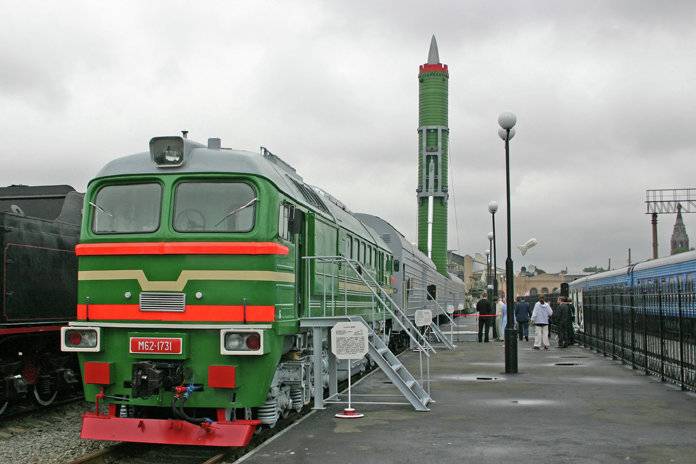 Earlier, the media, citing a source in the Russian defense industry, reported on the suspension of work on the creation of a railway complex.
This decision, obviously, is associated with the optimization of financial costs aimed at financing the army and
fleet
Russia in the face of the upcoming reduction of the state arms program. However, I would like to expect that, taking into account the current military-political situation in the world and the growing risks for our country, the BZHRK project was nevertheless launched, and the current decision was temporary and ultimately revised,
said the agency Korotchenko.
According to him, Barguzin is extremely important in the light of the development of the American concept of an instant global strike and the creation of a global US missile defense system. The expert also noted that the "missile for BZhRK was largely unified with the programs of solid-fuel rocket complexes that are currently being implemented by the Moscow Thermal Engineering Institute (MIT) as part of the RS-24 Yars, PC-26 Rubezh and SLBM Bulava programs, which significantly reduces the cost of creating "Barguzin" ".
I would still like to expect that this decision can be adjusted in 2018 year, including in the framework of the next cycle of meetings that the President holds with the leadership of the Defense Ministry and the leading defense companies. It was also necessary to fully take into account the opinion on this issue of MIT General Designer Yuri Solomonov, including in the framework of his separate report on this issue to President Vladimir Putin,
added Korotchenko.
As reported by the media, in 2016, the railway complex successfully passed the first test stage - throwing tests, during which it was checked, in particular, whether the missile preparation algorithms for launch were developed correctly, how it leaves the launcher and how the launch equipment works.
It was also reported that flight tests of the rocket were to take place in 2019 year. And this year, according to the commander of the Strategic Missile Forces Sergey Karakayev, the president of the Russian Federation was to receive a report on the prospects for the deployment of the BZhRK.