The commander of the Tajik military unit Khayriddin Akhmatov was killed, four more soldiers were injured during a firefight at the border with Afghanistan, reports
RIA News
.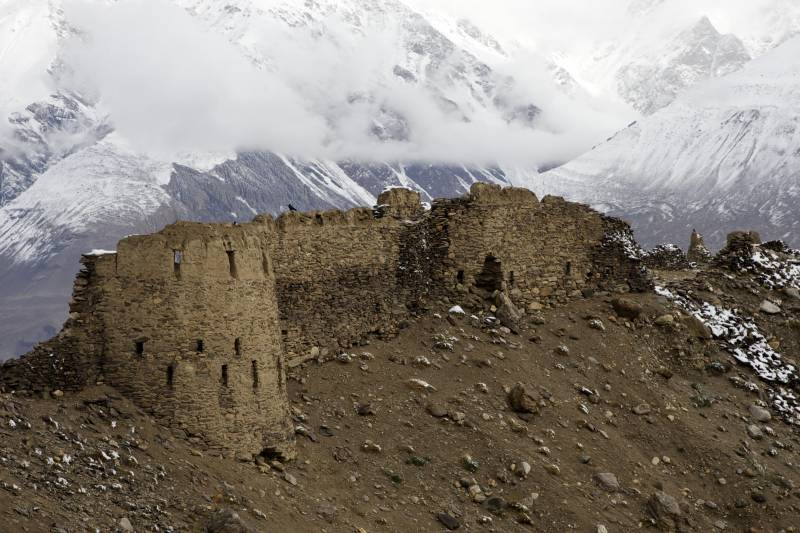 Ruins of a fortress on the border with Afghanistan. Pamir, Vakhan corridor.
According to a source in the State Committee for National Security of Tajikistan, the incident occurred in the Shamsiddin Shokhin region bordering Afghanistan.
A clash with an armed group, possibly Afghan smugglers, occurred last night near the village of Languriho of the area,
said the agency interlocutor.
Colonel Akhmatov died on the spot, four soldiers were hospitalized with serious injuries.
Based on their condition, it is possible to transfer by helicopter to the military hospital of the city of Dushanbe,
added source.
As stated in the official statement of the State National Security Committee, the clash in which the commander of the border detachment died, occurred at the checkpoint, "when the guards tried to stop a group of armed drug smugglers from Afghanistan."
Not obeying the order to stop, the armed violators opened fire on the border guards, as a result of which a colonel was killed during a clash ... three Afghans were killed, four border guards were wounded,
says release.
It is reported that "four Kalashnikov assault rifles and 33 kilograms of drugs were discovered at the scene of the clash." Currently, the search continues for hiding criminals.
"During the nine months of this year, 26 combat clashes occurred on the Tajik-Afghan border, as a result 13 drug smugglers were neutralized, one trespasser was injured, 19 was detained," the department said.
The total length of the Tajik-Afghan border is 1430 kilometers, and the Shamsiddin Shokhin (formerly Shurabad) district is the busiest part of the border because of the complex mountainous terrain, which often causes smugglers to clash.