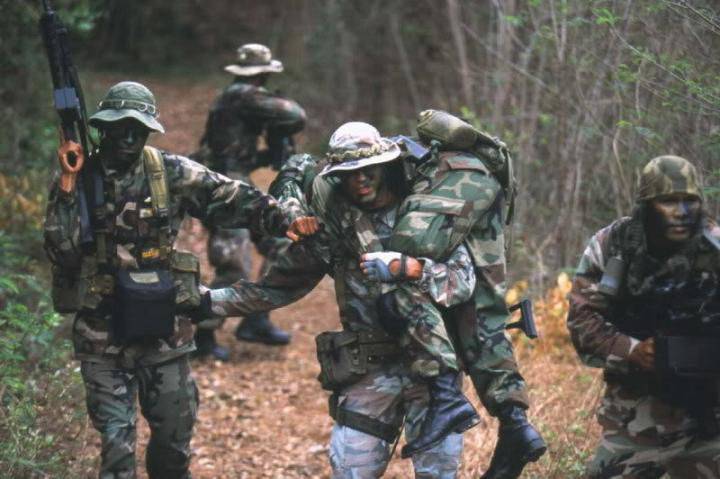 Thailand has very large, albeit very archaic armed forces, which are formally focused on waging both classical and counterguerrilla war.
For a long time, the country was considered a key American ally in the region. It was from Thailand that the USAF raided Vietnam in 1964 – 1973. However, today China has a significant impact on Bangkok.
Weapon
Thailand acquires in many countries, its own military-industrial complex is poorly developed. The country is lagging behind the majority of ASEAN neighbors in terms of army rearmament.
The ground forces are divided into 4 armies (or army zones, which are essentially military districts). The 1 Army (headquarters in Bangkok) has 1, 2, 9 th infantry and 1 th development (combines the functions of combat and construction units) divisions, 9 and 29 th infantry regiments. 2 Army (Nakhon Ratchasima): 3, 6, 12-I infantry, 3-I cavalry (light armored) and 2-I development division. 3-I Army (Phitsanulok): 4 and 7-I infantry, 1-I armored, 1-I cavalry, 3-I development division. 4 Army (Nakhon Si Thammarat): 5 I infantry and 4 I development divisions. In addition, the SV includes 11-I (reserve) and 15-I infantry, 2-I cavalry (Royal Guard), artillery, air defense, engineering, 1-I MTR divisions.
Most modern
Tanks
- 25 Ukrainian "Oplot" (it is planned to supply another 24) and 10 Chinese VT-4 (there will be another 18 to 40). In addition, there are old American M60s (178 units), M48A5 (up to 170), M41A3 (up to 200), as well as 66 "Stingreys" and 104 light English "Scorpions".
There are also "Ukrainians" in the BTR park. These are 168 BTR-3E / E1 plus 9 KShM and 19 auxiliary vehicles based on it. In addition to them - 207 South African "Reva", American LAV-150 (83), "Dragoon" (43) and M113A1 / 3 (465), up to 20 old English "Saracens", 10 Singaporean "Bronco", 450 Chinese Tour 85. There are 6 latest French wheeled self-propelled guns Caesar, as many Israeli ATMOS-2000s and 20 American M109A5s. The towed guns are mostly American: 243 M101, 12 M102, 20 M114, 116 M198. In addition to them - 22 English L119, 39 French LG1, 12 Italian M-56, 32 own M-618A2 and 12 M425, 54 Chinese Tour 59-1, Israeli M-71 (32 units) and M-68 (up to 44). There are more than two thousand mortars, including self-propelled MO-120-RT (200), M125A3 (21), M1064A3 (12) and others. There are 60 old Chinese MLRS Type 85, 18 latest WS-1B and 9 created on their basis in Thailand itself DTI-1. In addition to the 18 self-propelled M901 ATGMs with the TOU ATGM and the 12 Ukrainian BTR-3RKs with the Barrier ATGMs, troops have 500 old American M47 Dragon ATGMs. Armed with military air defense of 8 Italian Spada air defense systems, more than 150 MANPADS (54 Russian Igla-S, 90 Chinese HN-5A, 8 English Starstrik), 54 old American ZSU-24 M163, 12 M-1 and 18 M-42, more than 200 anti-aircraft guns. In the army
aviation
mostly American and Brazilian light aircraft (three and a half dozen), but there are also Spanish. There are only 7 combat helicopters - American AH-1F Cobra. But in excess of multipurpose and transport: 5 Mi-17V, 12 UH-60, 5 UH-72A, 8 AS550, 10 AW139, up to 110 UH-1H, up to 42 "Bell-206", up to 60 "Bell-212", 16 Enstrom-480V, up to 30 Hughes-300C.
Air Force include 11 airborne wings. The most modern combat aircraft are the Swedish 11 fighters JAS-39 (7 C, 4 training and combat D). There are also American ones: 52 regarding the new F-16 (37 A, 15 B) and 35 of the obsolete F-5 (15 E, 16 T, 1 B, 3 F). As attack aircraft, light aircraft can be used (AU-16A, 23 – 17 of German-French training Alpha Jet, up to 19 of Czech L-32ZA) American reconnaissance aircraft. The fleet includes 39 reconnaissance aircraft (6 of Austrian DA5МРР, 42 American Lirjet-1А), 35 of Swedish AEWS Saab-2. Among the three and a half dozen transport workers 340 Russian "Superjet-2". Training aircraft: 100 New Zealand CT-42, 4 – 7 American T-9D, 41 Swiss PC-22, 9 Austrian DA6. Multipurpose and transport helicopters: 42 "Bell-15", up to 412 UH-34H, 1 S-3 (all - American), 92 European HM7.
Ground defense is intended primarily for the defense of air bases. It includes the 1 battery of the Chinese KS-1СМ ZRK (4 PU), 4 ADATS American ZRK, 30 20-mm ZSU (12 on the chassis of the American BTR V-150, 18 on the chassis of the German BTR "Condor", I can use, I am now, I'm now), I can use the menu, I can use the "Kdor", I can use the menu, I can use the "Kdor"; German "Mauser" Mk 60, 8 Chinese Tour 30).
The Thai Navy is the only among the ASEAN countries that have an aircraft carrier. This is the "Chakri Narubet" of Spanish construction. But due to the exhaustion of the resource "Harrier" ship is used only as a helicopter carrier.
The basis of the surface forces are frigates. These are 2 of the Naresuan ship (Chinese 025T project, but with Western armament), 4 Chao Phraya (Chinese 053HT project), 1 Chulalok (American Knox-type), 1 English Makut Rajakuman (used as a patrol and training), 1 "Pin Clao" (American "Cannon", also training). There are 2 missile corvettes "Rattanakosin" (American built) and 5 artillery (3 own type "Hamronsin", 2 American "Tapi"). Patrol ships: 3 Chinese "Hua Hin" and 2 "Pattani" (similar to the latest corvettes project 056), 1 «Krabi» (English «River»), 6 own "Sattahip», 3 T-991, 3 T-994, 3 T-111. Missile boats: Singaporean type 3 type "Prabpapak", Italian type 3 "Ratcharit". Before 100, light boats of various types are counted in the maritime police.
The Navy has 7 minesweepers: 1 own Talang, 2 of Ladya type (Italian Gaeta), 2 Ban Rachan (German М48), 2 Bankeo (American MSC289).
Amphibious forces include 1 DTDs of the "Endurance" type, built in Singapore, 2's own TDCs of the "Sichang" type, more than 50 boats.
Naval aviation has 2 former A-7E deck guns used for training purposes. There is up to 11 reconnaissance aircraft Cessna-T337H, 1 anti-submarine R-X-APX-X, 3 transport (15 German D-7, 228 own N-1, 24 Brazilian ERJ-2LR, 135 American A-AP-X-NUMX, Brazilian ERJ-1LR, 3, American UP-AP-X-NXX, 4 Brazilian ERJ-27LR, 14, American UP-AP-X-NXX, 16 Brazilian ERJ-2LR, 6, American UP-AP-X-NXX, 8, Brazilian ERJ-70LR, 6, US-based AP-X-NXX, 212, 9, 2, 214, Brazilian ERJ-5LR, 76, American UP-AP . Armed with naval aviation and 2-60 anti-submarine helicopters (XNUMX British "Super Lynx», XNUMX-XNUMX American S-XNUMX and XNUMX "Bell-XNUMXASW»), XNUMX and multipurpose vehicles (US XNUMX "Bell-XNUMXST», XNUMX S- XNUMXB, XNUMX MH-XNUMXS).
The Marine Corps, including the 4 Regiment (including the artillery battalion), the intelligence and the headquarters and the intelligence and the intelligence and the intel software, has the 5 Chinese tanks Toure 69II, 72 Ukrainian BTR (36 American AAV-7А1 and 24 V-150, 12 Ukrainian) and 3 54 Ukrainian AAV-36А101 and 12 V-45, 6 Ukrainian, 45, 24 Ukrainian AAV-18АXNUMX and XNUMX V-XNUMX, XNUMX Ukrainian BATS XNUMX of American МXNUMX, XNUMX of Austrian GC-XNUMX and XNUMX GHN-XNUMX), XNUMX of American ТТК "Tou" on "Hummers", as well as Chinese QW-XNUMX MANPADS.
Thailand is engaged in territorial disputes with two neighboring countries that are also members of ASEAN: Laos and Cambodia. There have been border incidents. With Laos in 1987, there was even a short war. The Thai Armed Forces are stronger than the armies of Laos and Cambodia combined, but behind these countries is Vietnam (the "Hanoi's Ark"), whose forces are superior to the Thai in all respects. In addition, lately, Beijing has influenced Vientiane and Phnom Penh, who, as has been said, is a close ally of Bangkok. The likelihood of border conflicts in a big war is minimal. Thailand's other potential opponents are not currently visible. As an ally of both Washington and Beijing, Bangkok largely compensates for the archaic nature of its army. Perhaps, hence the slowness of its rearmament.