Russian manufacturers are completing tests of radiation, chemical and biological (RCB) reconnaissance vehicles. From next year, they will begin to enter the units and subdivisions of the RCBZ, according to
News
.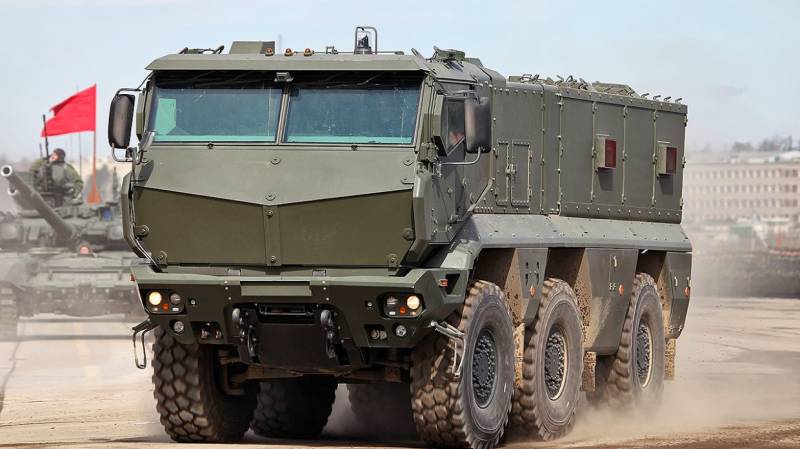 We are talking about machines of the new generation РХМ-8 and РХМ-9. They are equipped with the latest sensors to detect contaminated areas of land and modern communications equipment.
"PXM-8 and PXM-9 are able to conduct front-line RCB-intelligence in a few minutes. High-tech armor will protect fighters from bullets and shrapnel - they no longer need to run outside with dosimeters and other devices. The new communication systems will ensure the transmission of data on the infection in real time - directly to electronic maps at headquarters, "the newspaper writes, citing the military department.
It is reported that "РХМ-9 is mounted on the basis of the Typhoon armored car, its dimensions and the power to the power make it possible to place a large amount of sophisticated equipment." In particular, the complex is equipped with a full-fledged gas chromatograph. This device replaces the chemical laboratory and allows analyzing the composition of the atmosphere on the spot.
The PXM-8 is smaller and is mounted on the base of an armored car "Tiger". It is "intended for platoons and companies of the RCB protection that make up regiments or divisions." The machine is equipped with a remote-acting chemical intelligence device, a gas analyzer and ionizing radiation sensors.
Military expert Oleg Zheltonozhko:
Previously, it was necessary to bring the fighter with the device to the front edge so that he could explore the terrain. Then the data had to be processed and transferred to the top. Now it is enough to pass the instrument through the terrain or simply drive through it in a highly protected car. All data will be collected immediately in digital form to be sent to the command. In minutes we get the amount of data that we used to collect all day before.
He added that the progress of electronics contributed to the emergence of a new generation of RCB intelligence machines.
The equipment that is currently being installed was previously inaccessible due to the high cost of living. It did not even occur in any laboratory. New generation devices are cheaper, more compact and more accurate. The main thing is to ensure their vibration and shock resistance,
said the expert.
According to him, there is also a purely technical reason for re-equipment.
The need to modernize the chassis was long overdue, so the adoption of new armored vehicles followed the creation of radiochemical reconnaissance vehicles on their base. Such a machine should be based on the chassis that are available to the units. It simplifies maintenance, spare parts,
noted Zheltonozhko.