The Russian Navy does not intend to sell the legendary cruiser Aurora and denies receiving such offers from any organizations, the director of the Central Naval Museum Ruslan Nehai told reporters.
Earlier, a number of media outlets reported that a fast food chain made a commercial offer to buy Aurora and open a restaurant there. These reports stated that the merchants offered the Central Naval Museum, on whose balance sheet the legendary cruiser is, 50 million rubles.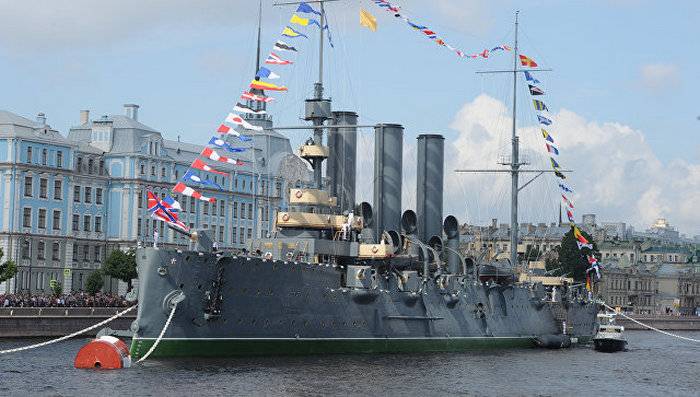 The implementation of any commercial proposals regarding the cruiser Aurora is out of the question. Cruiser Aurora, which is the ship number 1 of the Navy
fleet
, is part of the Baltic Fleet, and the museum on board the cruiser is a branch of the Central Naval Museum. No letters were sent from any organizations to our address
- transmits
RIA News
statement of the museum director
Legendary cruiser 1 rank "Aurora" was introduced into the Russian Navy in the 1903 year. He participated in the Tsushima battle in the Russo-Japanese War (1905 year), in the First World War (1914-1918 years), served as a training ship of the Baltic Fleet (1923-1940 years). After World War II, the ship, damaged during the defense of Leningrad, was repaired and moored at the Petrogradskaya Embankment in 1948. Until 1956, the Aurora served as a training base for the Leningrad Nakhimov School, after which it became a museum. In 1992, the St. Andrew's flag was raised again on the cruiser. Aurora is one of the symbols of the October Revolution 1917 of the year and an object of cultural heritage of the Russian Federation.