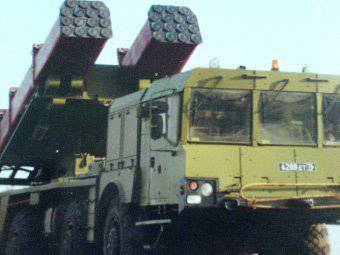 lenta.ru
Subdivisions of the Southern Military District (SKR) of Russia received about 20 new Tornado-G multiple launch rocket systems (MLRS). As reported on Tuesday, 3 of April, Interfax, citing the head of the press service of the Southern Military District, Colonel Igor Gorbulya, Tornado-G will be replaced by outdated installations of the MLRS BM-21 Grad.
According to Gorbulya, in the near future, the Tornado-G installations will be involved in training for managing the fire of the district's jet units. 9 May MLRS "Tornado-G" will take part in a military parade in Rostov-on-Don.
In February, Russian Defense Minister Anatoly Serdyukov announced the plans of the military department to conclude a contract for the supply of 2012 MLRS Tornado-G to the troops during 36. For this, the complexes needed to pass state tests. At the end of December 2011, the representative of the Land Forces of Russia, Lieutenant Colonel Sergey Vlasov, in turn, argued that the troops had received over 30 units of "Tornado-G" as early as 2011 year.
122-mm MLRS "Tornado-G" is a further development of the system "Grad". In combat effectiveness, the new system is reportedly superior to its predecessors 2,5-3 times. "Tornado-G" is armed with more powerful ammunition, and also has a greater range, accuracy and accuracy. In addition, the system is able to perform combat missions completely autonomously.
"Tornado-G" is designed to destroy and suppress adversary manpower, armored vehicles, artillery and mortar batteries, as well as command posts. Detailed tactical and technical characteristics of the system has not yet been disclosed. Earlier it was reported that the new MLRS will be available in three versions - "G", "Y" and "C" caliber 122, 220 and 300 millimeters, respectively.