Today (December 1) a new academic year has started in the Armed Forces. According to the Department of Information and Mass Communications of the Ministry of Defense of the Russian Federation, training in the 2017-2018 academic year will be aimed at raising the level of professional training of all categories of military personnel.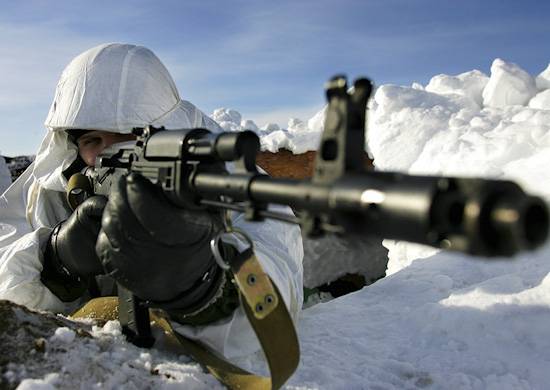 From the press service:
The main priority of combat training will be to improve the quality of military combat training activities, to improve the training of military command and control agencies, staffs of various levels in the ability to manage subordinate units using the most modern automated command and control systems and communications. An important place in the training of troops (forces) will be given to the organization of interspecific training of troops, the organization of interaction on the battlefield of formations and military units of the Ground Forces, the Aerospace Forces and the Naval
Fleet
, improving marching training, completing tasks for the comprehensive provision of units.
It was noted that in the new academic year, the practice of surprise checks will continue in the Armed Forces of the Russian Federation. Units and formations will be engaged in regrouping and advancing to unfamiliar military training grounds for various types of maneuvers.
Department of Information
Ministry of Defense of Russia:
Further improvement of the training material base of the training grounds and training centers is planned for conducting classes as part of crews, combat crews and, in general, tactical unit units up to and including formation. In 2017, more than 50 polygons were improved, more than 3,5 thousands of polygon equipment, more than 170 training complexes were commissioned.
It is noted that the 2018 International Army Games will be held in 4 year. They will be held in August at dozens of polygons of various military districts of the Russian Federation. 70 states received invitations for their troops to participate in the Games.
From the press service:
Next year, the troops (forces) will continue to fight for the right to receive the name "shock". It will be awarded units that will achieve high performance in combat training, military discipline in the performance of special tasks and activities of daily activities. According to the results of 2017, more than 200 military teams won the right to wear the high rank of "shock". In 2017, over three thousand tactical and command-staff exercises were conducted to improve the skills, 16% exercises were bilateral, and the intensity of interspecific training was increased by 15%. The most significant event was the West-2017 joint strategic exercise of the Armed Forces of Russia and the Republic of Belarus. As part of the exercise, the combat training tasks for the defense of the united state were successfully accomplished.
It is noted that in the new academic year 8 is planned to hold thousands of training events at various levels, including large-scale "Vostok-2018" maneuvers and exercises "Peaceful Mission" with the participation of the SCO countries.