The scandal broke out during a security forum held in Lviv. During the event, which brought together representatives of the local administration and politicians at the state level, a map was shown with the presence of the Donetsk and Luhansk people's republics. The map was projected onto the wall screen and the English inscription "People's republics of Donetsk and Luhansk" appeared on it.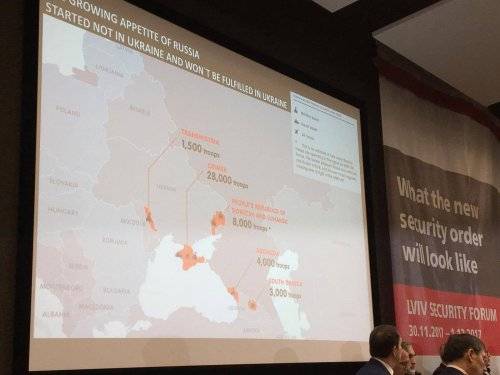 Seeing the inscription on the map, the head of the Lviv Regional State Administration Oleg Sinyutka was indignant. He expressed the words of harsh criticism of the organizers of the forum and those who opened the security forum. In particular, the mayor of Lviv, Andrei Sadovy, the moderator Miroslav Gongadze and the deputy chairman of the Verkhovna Rada Oksana Syroed went to Lviv.
Sinyutka said that what he saw on the screen was "an element of a hybrid war against Ukraine," and that he would personally turn to the Security Service of Ukraine with a statement about the "inadmissibility of such things". According to the head of the Lviv Regional State Administration, "this card is disrespect for the defenders of Ukraine."
Sinyutka (quote
Zaxid
):
I have a question for the forum organizers. We are in Lviv at such an important conference, and I believe that today it is a provocative thing in relation to the speakers who are invited. I was surprised when the symbolism of the Donetsk and Lugansk regions was sold in Lviv, but when the "People's Republics of Donetsk and Luhansk" was written on the forum today, I believe that this is an element of a hybrid war directed against Ukraine in order to destabilize in the Lviv region.
After his speech, Sinyutka left the forum.
Before leaving the Lviv governor, they asked to redirect their claims to the President of Ukraine, Petro Poroshenko, who in Minsk signed agreements with the LDNR heads, in effect recognizing these territories.
Video: