During the conversation with TV presenters of major Russian TV channels, Dmitry Medvedev responded, among other things, to a question about his thoughts on the new presidential term. According to the current chairman of the government, in terms of nomination to the presidential post (election-2018), "everything will become clear very soon." At the same time, Prime Minister Medvedev noted that he considers Vladimir Putin to be a successful president.
From the statement by the head of the Russian government and the opportunity to stand as a candidate:
As for me personally, in the current political period, or the current political season, I do not see myself as such.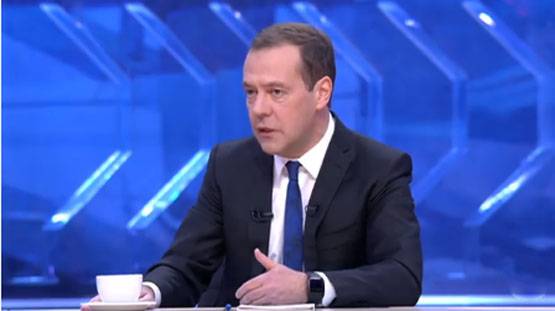 This answer gives reason for reflection on the fact that Dmitry Medvedev does not exclude the possibility of running for president in the next political "season."
Medvedev also answered the question about the increased number of poor in Russia. This question was asked by Igor Poletayev (RBC):
According to estimates of the Analytical Center under the Government, now in Russia there are about 12 millions of working poor, more than 20 million people live below the poverty line. And it is believed that this figure can be reduced in five to seven years. Does this mean that we will not be able to win poverty due to, for example, raising GDP growth rates to the average world level or higher in the coming years?
Answer chairman of the Cabinet:
Poverty is, of course, one of the most glaring problems of our modern economy. Naturally, poverty itself is the reverse side of the underdevelopment of the economy, because there can be no situation where the economy is in a weak state and there are no poor at all.
According to Medvedev, calls for fighting poverty should not be abstract. At the same time, Medvedev did not report on the methods, only noting that 10-15 years ago the number of poor people was significantly higher - about 30 million people.