Negotiations were held in Baku between the heads of the foreign ministries of Azerbaijan, Pakistan and Turkey. The talks were held on several topics, including the theme of the development of transport communication and joint production of weapons.
In particular, the issues of the purchase of training aircraft from Pakistan by Azerbaijan were discussed.
Azerbaijani Foreign Minister Elmar Mammadyarov said that after the talks, the three countries agreed to develop a joint program for the joint creation of weapons. What specific weapons in question are currently not reported.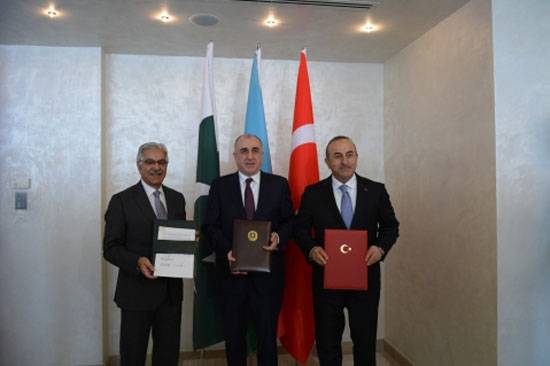 The head of the Azerbaijani Foreign Ministry during the meeting noted that Baku considers 20% "of its territories as occupied by Armenia." According to Mammadyarov, Turkish Foreign Minister Mevlüt авavushoglu and Pakistan's Foreign Minister Mohammed Asif expressed support for Baku's position on the settlement of the Nagorno-Karabakh problem.
Turkish Foreign Minister Cavusoglu repeated the words recently voiced by Turkish President Recep Erdogan. According to Chavushoglu, the "decisive position of Russia" can put an end to the Karabakh conflict. At the same time, the Turkish Foreign Minister added the following:
We support all the options that are in the interests of Azerbaijan.
With this approach, the easiest way to shift the responsibility for resolving the conflict to anyone, is possible to Russia ...