On the diesel-electric icebreaker of the new generation project 21180 "Ilya Muromets", which was built for the Russian Navy, the flag raising ceremony took place in St. Petersburg on Thursday.
The main command is pleased to note that once again, in strict accordance with the contract, we receive the ship. More than 30 years the fleet has not received ships of this class.
- said at the ceremony of raising the flag on the icebreaker "Ilya Muromets" Deputy Commander of the Russian Navy for armament Viktor Bursuk.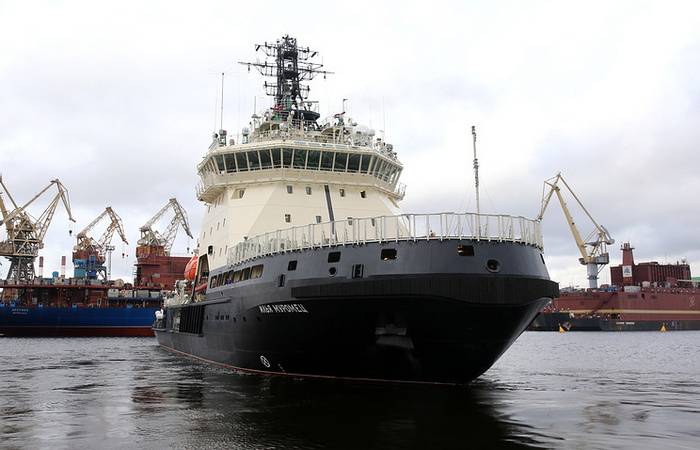 The icebreaker Ilya Muromets was laid at the Admiralty Shipyards on April 23 of the year 2015, launched in June of the year 2016. The icebreaker will be used to support the activities of the Arctic grouping of the Russian Navy. The length of the icebreaker is 85 meters, the width is 20 meters, the draft is 7 meters, the speed is 15 knots, the cross-country ability is 1 meters. The icebreaker crew will consist of 32 people.
New multi-purpose vessel designed for icebreaking support and deployment
fleet
in ice conditions, self-guiding of ships and vessels, as well as their towing in ice conditions. The icebreaker of project 21180 is a new generation vessel with new principles of electric propulsion and a modern power plant.
In addition to its main function, the icebreaker can transport cargo in the hold and in containers on the upper deck, perform hydrographic surveys, and also participate in rescue operations.
The vessel can be used to extinguish fires at emergency facilities, eliminate emergency oil spills, as well as for the transport of troops. For loading and unloading operations, the icebreaker is equipped with a crane with a lifting capacity of 26 tons. In the bow of the vessel is a helipad, reports
RIA News