The SSA destroyed the 32 terrorist in Dar'a, the 20 civilians of Deir-ez-Zor suffered at the IG minefield, reports
FAN
with reference to Syrian sources.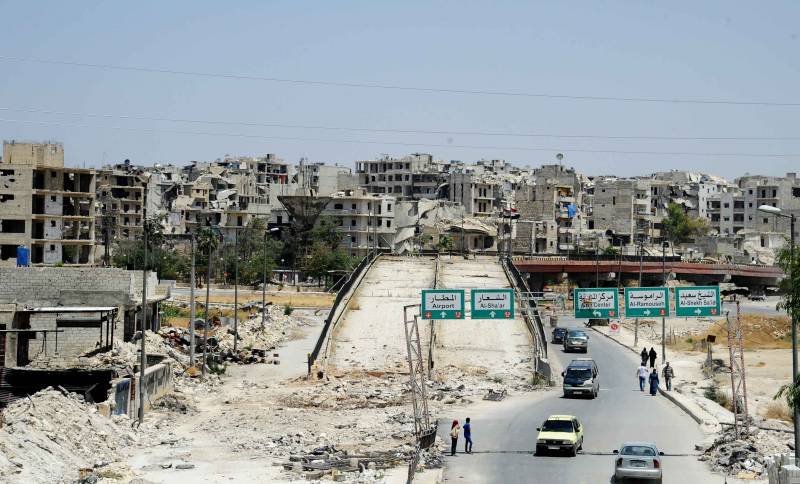 In Eastern Ghouta, opposition continued throughout the day between the Syrian Arab Army (CAA) and the radical opposition factions. Artillery of government forces fired on militant areas in the settlement of Haza, Jobar and Ain Tarme. In addition, clashes between the army of Bashar al-Assad and the militants of the radical opposition were recorded in the vicinity of the settlement of Misrab.
The Syrian army took control of the settlements of Mazraha and Azizat Abesan, located southeast of Hanassera (Aleppo Province). Government troops occupied the settlements after lengthy battles with the Dzhebhat an-Nusra group (banned in the Russian Federation). At the end of the day, it became known that the CAA, with the support of the Russian Aerospace Force, took control of the city of Ramla.
Syrian law enforcement agencies have prevented a double terrorist attack in the administrative center of the province of Homs: the terrorists with suicide belts were arrested near the building of the headquarters of the Al-Baath party and near the city's cultural center. Belts were seized from detainees with three kilograms of explosive and mobile phones as detonators.
More than 20 civilians in the province of Deir ez-Zor suffered during a crossing over a minefield left by terrorists of the IG (banned in the Russian Federation) during the retreat from the settlement of Abu Hashab in the north-west of the region. The militants of the IG, meanwhile, are preparing to transfer their detachments from the Abu Hammam and Khadzhin populated areas on the left bank of the Euphrates to Abu Hardub and Abu Hassan on the right. The purpose of the redeployment is to counter government forces in the Meyadin and Abu Kemal areas. Also, military experts believe that the IS will strengthen its ranks with terrorists who infiltrated into Syria from the territory of Iraq.
The Russian Aerospace Forces, together with the Syrian Air Force, launched a series of attacks on the Al-Nusra terrorist deployment zones in the area of ​​Al-Musheirif settlement in the south of Idlib province. Also Russian
aviation
attacked the Islamist fortified areas near the settlement of Abu Dali in the southeastern part of the region.
In the eastern part of the province of Hama, clashes between the IG and the coalition controlled by "al-Nusre" continued. As a result of the fighting in the area of ​​the settlement of Al-Mwaleh, the militants of An-Nusra killed nine IG terrorists. Earlier, igilovtsy ousted Islamist coalitions from more than a dozen settlements in the east of the region. However, over the past 24 hours, the En-Nusra militants launched a counter-offensive and began to return populated areas to their control.
As a result of prolonged fighting in the Yarmuk River Basin (Dar'a Province), the Syrian Free Army (SSA) destroyed 32 IS terrorists and several pieces of military equipment. In addition, the location of the IG underwent a drone attack.