Portsmouth hosted a ceremony to commission an auxiliary
fleet
British Navy of the main supply vessel A 136 Tidespring, built under the program Military Afloat Reach and Sustainability (MARS), reports
bmpd
.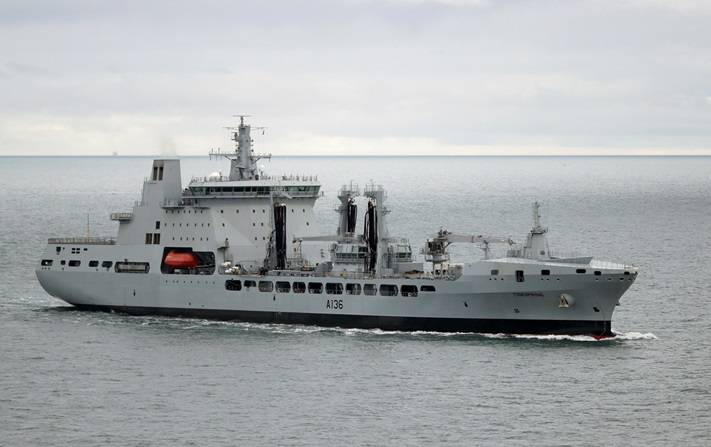 The construction of the vessel was carried out by the South Korean shipbuilding association Daewoo Shipbuilding & Marine Engineering (DSME, part of the Daewoo group) under a 2012 contract.
A total of 4 integrated supply vessels were ordered. The contract value was 452 million pounds. The project was developed by the British company BMT Defense Services.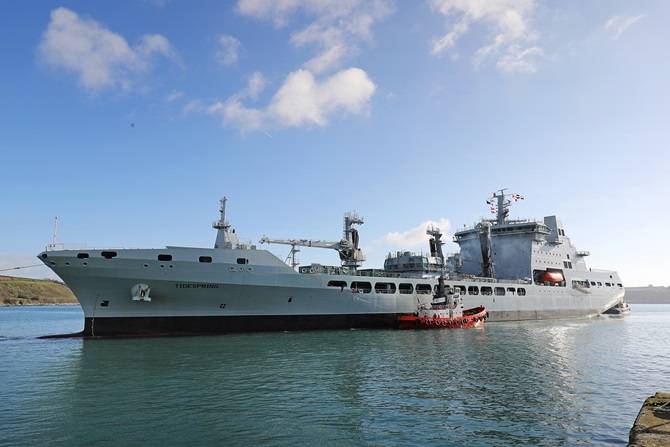 The ceremony of the official laying of the head ship Tidespring took place in December 2014 of the year, the launching in April of the 2015. Its completion was accompanied by numerous delays. As a result, the Tidespring entered factory running trials only in June of the 2016 year.
In March, the 2017-th ship arrived in the UK for retrofitting and retrofitting. On September 1, the final tests of the ship in British waters began.
The remaining ships must surrender six months after the Tidespring is handed over.
Comment of the resource: "Tidespring-type vessels are very large units with a total displacement of 37 thousand tons (deadweight 26 thousand tons) and a length of 200,9 m and a width of 28,6 m. The power plant combined diesel-electric, full speed - 26,8 knots. The program to create for the Royal Navy the supply vessels of the new generation MARS lasted from 2002, and as a result of repeated financial cuts, it "dried up" from plans to build 11 ships of three types (for 2,5 billion pounds) to only four ships of the same type. "