The Ukrainian military has repeatedly spoken about the presence of the Buratino heavy flame-thrower systems in the Donbas militias. The first information about TOC appeared in the summer of 2014. He writes about it
Messenger of Mordovia
.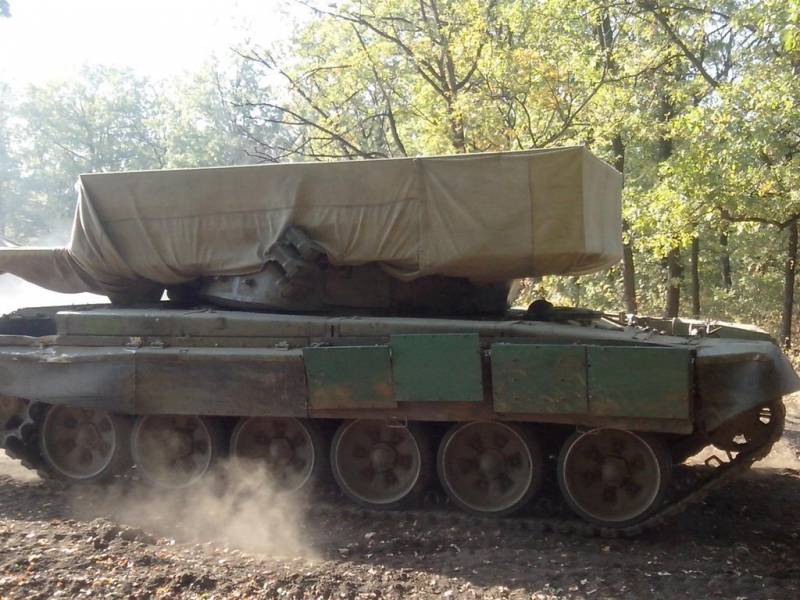 P R ° P »Рѕ РѕРїСЂР ° РІРґР ° ть РєР ° РєРёРј-то РѕР ± СЂР ° Р · РѕРј СЃРІРѕРё СЃРѕРєСЂСѓС € ител СЊРЅС ‹Рµ РїРѕСЂР °РµР. Р "РѕРІРѕСЂРёР" Рё РЅРµ тоДько Рѕ В" Р'СѓСЂР ° тино ", РЅРѕ Рё Рѕ В" Р ° С'РѕРјРЅС ‹С ... В" РЅВ »Рё РґСЂСѓРіРѕРј смертоносном
weapons
.
The speaker of the National Security and Defense Council of Ukraine, Andrey Lysenko, looked very comical. He renamed a heavy flamethrower to "Cheburashka" on live television, causing a flurry of ridicule turning into bullying.
"Knowing about the panic fear of the Ukrainian army in front of this, in fact, extremely deadly system, the ingenious Donbass militiamen decided to play this trump card to its fullest. Not having a real car, they took the usual T-72B, turned the turret into the stern and hoisted the launcher mock-up on it. From a long distance or from the air, the "modernized" seventy-two warfare looked like a real TOC, "says material author Dmitry Lemeshko.
The militias achieved their goal - they brought panic into the ranks of the Armed Forces of Ukraine. Ukrainian "experts" later claimed that "this installation burns everything out under pressure, a salvo of such weapons equal everything to the ground, and the area of ​​its destruction is up to 40 square kilometers."
Coming up with
stories
about the mythical Russian threat, Kiev propagandists, first of all, intimidated their soldiers to death, who, during the period of active hostilities, quite easily surrendered to captivity, just not to die under the blows of "ruthless Buratino".