President of Ukraine Petro Poroshenko on his Facebook page showed a new 3D radar 80K6T, which the state concern Ukroboronprom is preparing for testing.
This radar can detect objects in the air at a distance of 500 km, updating data every 5 seconds, and accompanying high-resolution targets.
- Poroshenko noted in the description under the video, which shows the new 3D-radar.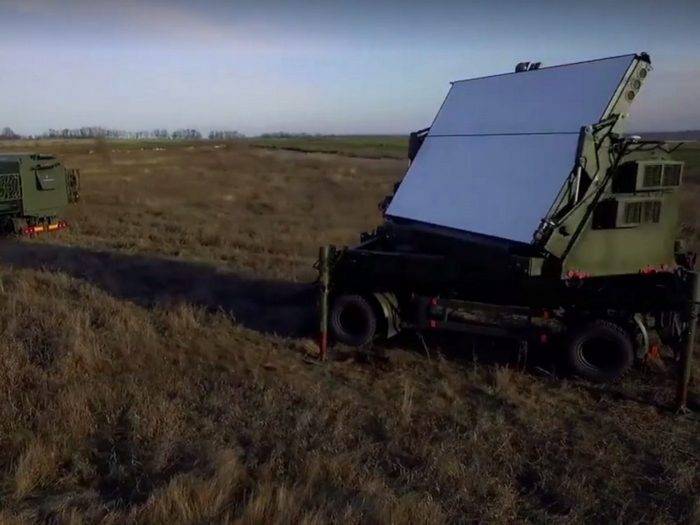 Earlier on the site "Ukroboronprom" reported that 3D-radar 80K6T can work with all anti-aircraft missile systems, which are currently in service with the Armed Forces of Ukraine. Due to the large field of view in elevation (up to 70 degrees), the installation allows you to identify tactical and operational-tactical missiles. At the same time, a special signal processing system allows detecting small-sized and cruise missiles that go at low altitudes with a rounding of the terrain.
Ukrainian developers have stated that the main feature of Iskra 80K6T is the digital phased active grid, which allows you to detect and track high-resolution targets. At the same time, thanks to only one station, a simultaneous measurement of the position of the target is carried out at once in three coordinates: range, azimuth and altitude, that is, an 3D model is created — previously, two radars had to be applied at once.
In addition, the use of a transmitter on transistor power amplifiers can significantly increase the reliability of the radar. Even the failure of several of the amplification modules will not completely shut down the locator. The 80K6T radar was designed with maximum mobility in mind, including it is adapted for transportation by aircraft from Antonov State Enterprise, and all 10-15 minutes are needed to deploy the radar.