BTR-87 is a development of Military Industrial Company LLC and is a deeply modernized version of BTR-82А, which received a number of improvements. Unlike its predecessor, the BTR-87 received a stern location of the troop compartment, a much more powerful front-engined engine, as well as a universal turret chase. This will allow, if necessary, to install on it a whole arsenal of replaceable combat modules with various weapons and electronics.
As one of the equipment options, it is planned to install a modified remote-controlled combat module SDM-30. He is armed with an automatic 30-mm 2-42 cannon, which is capable of hitting lightly armored vehicles. To combat the enemy's manpower, a PKTM 7,62-mm machine gun was installed.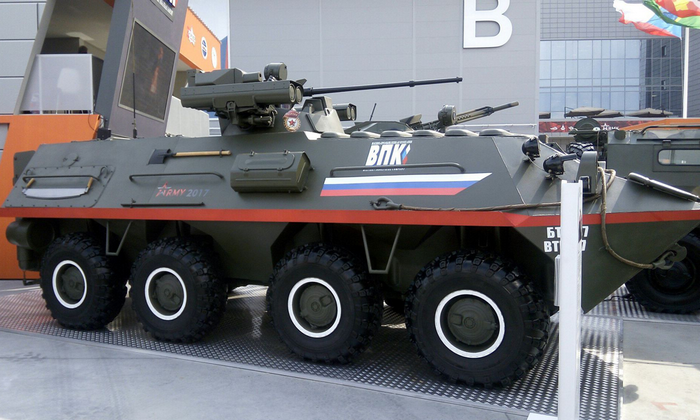 Also, weapons can be supplemented with unguided missiles C-8, anti-tank guided missiles "Ataka-T" or rocket flamethrowers "Shmel-M".
In addition to the uninhabited modules, the BTR-87 can be used to mount a single Bereg compartment with a 30-mm cannon and an 7,62-mm machine gun. As a guided weapon, it is equipped with the Kornet-EM missile system, capable of striking ground and air targets at ranges up to 10 km.
The high carrying capacity of the BTR-87 allows, without any special modifications, to install on it an 120-mm combat compartment of the 2-23 "Nona-SVK" self-propelled gun. Transformed into a light wheeled self-propelled howitzer - a mortar, the machine will acquire the ability to hit engineering structures and armored vehicles with adjustable Kitol-2 projectiles at a distance of more than 12 km with an accuracy of 90%.
The armored personnel carrier with a mass increased to 16,5 tons is capable of speeding up to 90 km / h on the highway. Its power reserve at the same time can reach 800 km. Protection of the BTR-87 is enhanced by mounted armored ceramics. In a frontal projection, it withstands a shot from an 23-mm automatic cannon from a distance of 500 m, and on the side stands in front of the line from a machine gun of the 12,7 caliber mm.
According to experts, the BTR-87 will become an all-purpose armored vehicle, significantly superior to the previous generation in all characteristics, reports RG-Sila