Russia is five years ahead of leading military powers in creating tactical-level combat robots (weight from 5 to 30 tons), said in an interview
RIA News
Director General of the enterprise-developer of robotic complexes of the Uran family, 766, Production and Technological Equipment Administration (UPTK) Dmitry Ostapchuk.
Speaking of military robotic complexes, in the segment I have already named from 5 to 30 tons, today in the world we are at the forefront. True, we can say that our competitors are already breathing in the back - if, according to expert estimates two years ago, the lag of our closest competitors in reconnaissance-strike complexes was estimated at 15-17 years, today they managed to reduce the gap to five years and this is serious indicator
- he said.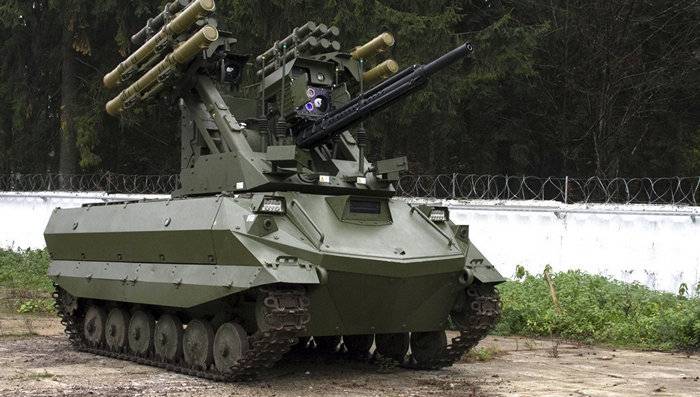 Among the examples of the most promising foreign projects in the field of combat robotics, Ostapchuk cited the program for lung robotization renewed in 2017 by the British BAE Systems
tank
Black Knight, whose tactical and technical characteristics are comparable with the Russian reconnaissance and combat robot "Uranus-9". At the same time, the agency's interlocutor emphasized that while the British company had just presented the layout of its robot tank, the serial production of Uraniums has been established over the past few years.
The developer added that with the weight of "Uranium-9" in 11 tons, the robot has compact dimensions - two times less than BMP or BTR. At the same time, the unmanned vehicle surpasses the armored vehicles of this class in composition of armaments and combat capabilities.
766 UPTK OJSC (Production and Technological Equipment Division) is a defense-industrial enterprise founded in 2013 year, which specializes in the development of various types of robotic systems. One of the most advanced developments of the company is the Uran robots, which were involved in the antiterrorist operation in Syria, including the demining of Palmyra. 100% stake in the company today belongs to the Ministry of Defense of the Russian Federation.