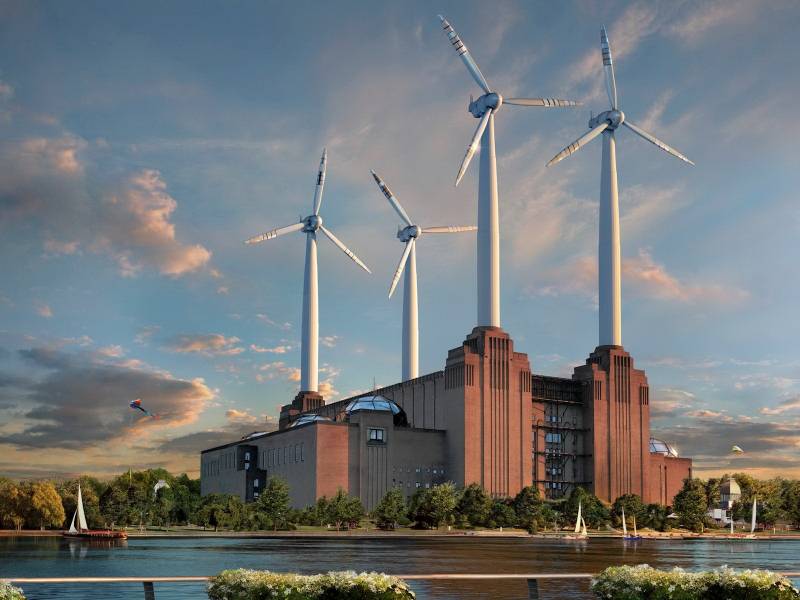 In October, the 2017 of the year during the hurricane "Herwart" in the German power engineering miracle happened. On the energy exchange, the cost of electricity suddenly became negative. That is, the consumer could not only use electricity for free, but he also paid extra for it. Miracle, you say? No, not a miracle, but the highest degree of the transcendent marasmus that swept the countries of Europe.
In fact, nothing strange in this
stories
not. It's just that we clearly saw what excesses in the field of the forced introduction of alternative energy in an extreme situation lead to. The fact is that in Germany, as elsewhere in Europe, the "green tariff" is sponsored by the state. The owners of German wind turbines, when there is no demand for their electricity, it is unprofitable to stop the generation. For unworked kilowatts, the state will not pay extra money, and therefore they offered their electricity at a negative cost ...
Light at exorbitant prices
It's no secret that the real cost of "green" electricity is much higher than traditional. As we found out in
past material
Energy is the industry that is most affected by politics.
Passion for alternative sources of electricity in Europe began for a reason. The region has long been a traditional importer of energy, and the problem of depleting its own hydrocarbon reserves, which has become very acute in 1990 — 2000-s, has put the continent in front of the fact: either to become even more dependent on energy imports, or to somehow solve this problem.
And they began to solve it, and at once in two unconventional ways. Firstly, a significant part of energy-intensive production migrated abroad, and secondly, in Europe a real boom began in the development of innovative ways of producing electricity.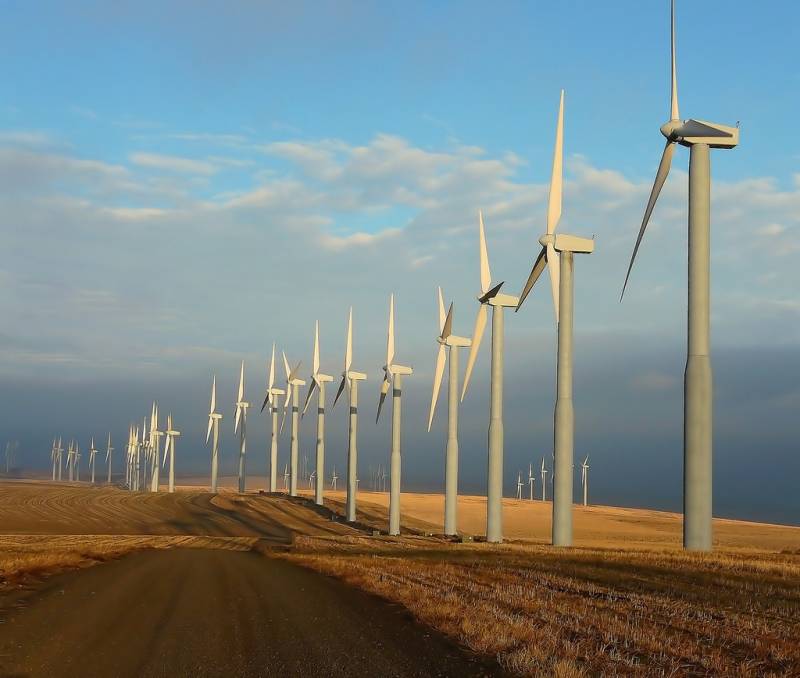 But you have to pay for everything. Who really pays for this "holiday of ecology". First, as we already know, a state that subsidizes clean energy producers. Secondly, the population of these countries themselves. Here is an interesting graph showing how the cost of electricity in various European countries depends on the amount of electricity consumed: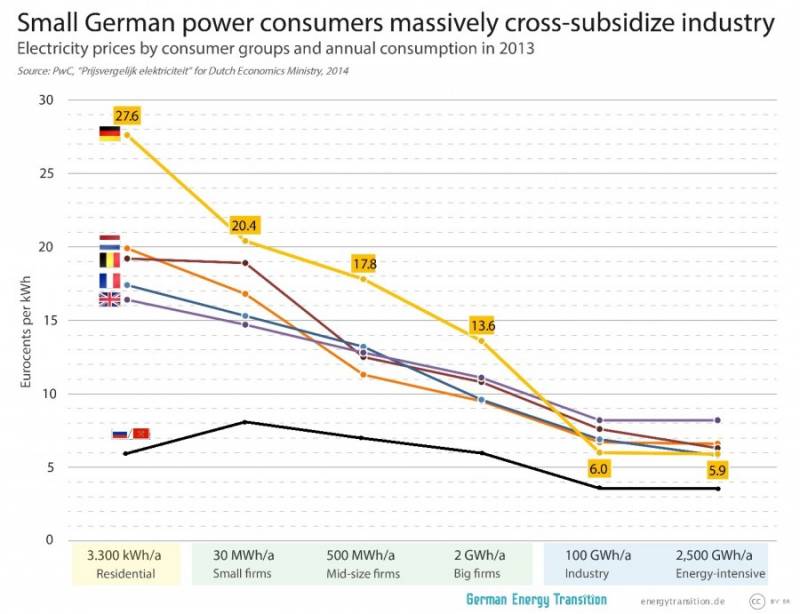 As we see, Germany, in which the "alternative" energy sector is the most developed, has the largest variation in electricity prices. First of all, the population overpays for it.
Dead end, which can not be avoided
As we understand, everything cannot work endlessly. Sooner or later, the system will face a situation where producers of traditional electricity and the state will not be able to subsidize "green" freeloaders. And the question will arise: what to do next? And there are exactly two ways out. Either raise the price for the industry (which will immediately make it less competitive), or forget about subsidies, after which it will be meaningless to develop green energy.
Alternative energy advocates disagree with this question. They are sure that sooner or later, new technologies will allow the "green" energy to become sustainable. Yes, in recent years, all this is happening. The cost of equipment falls, and new technologies allow to increase the efficiency of the stations. But all this is not enough to compete in the foreseeable future, for example, with nuclear power plants, about the economic inefficiency of which wind turbine supporters like to talk about today.
At the same time they fall to the level of the usual forgery. Their calculations are taken "from the ceiling." For example, opponents of the construction of the Belarusian NPP call the final cost of electricity at the output from the 8,9 unit and even 10 eurocents per kilowatt-hour.
Honestly, I do not know on which ceiling it is all written, but it is all a lie. I propose to make this simple calculation.
The cost of building a two-unit station with VVER-1200 reactors is already known - 11 billion US dollars. In euros, this is about 10 billion. Moreover, a third of this amount is not the cost of the units themselves and the associated infrastructure, but the construction of a nuclear industry town, that is, that infrastructure, which by and large in calculating the cost of electricity production should not be taken into account.
We go further. VVER-1200 units are designed for 60 years of operation. Their electrical power is 2 400MW. The time of one fuel session 18 months. Taking into account their increased duration, the time of the actual operation of the block will not be 75%, as it is now, but 85-90%. Enough numbers, we can start the calculation.
So, how much electricity will the two units of the Belarusian NPP produce for the entire period of operation?
60 (years) * 365 (days) * 24 (hours) * 2 400 000 (power in kW) * 0,85 (utilization rate) = 1 072 billion kWh
We divide 10 billion euros by the resulting figure and obtain capital expenditures for the construction of 0,93 eurocents per 1 kWh.
If, at the same time, one-third of the cost of untargeted infrastructure is discarded, then we have the construction cost price at the level of 0,62 eurocents per kWh.
If we take into account that the blocks may well work for 90 for years, after a relatively inexpensive extension of service life (at the level of 1 billion euros for a maximum of two blocks), then the final cost of capital expenditures for building blocks will be approximately 0,5-0,7 eurocents on 1 kW of generated electricity.
You also need to consider the cost of fuel and operating costs. We take data from the enemies of nuclear power plants, environmentalists (that is, the maximum possible). For example, Bellona experts (big skeptics, judging by my visit to AtomEco exhibitions) for the 2011 year gave such figures on the cost of purchasing fuel and its further processing: 1,1 US cents per 1 kW * h. That is 1 Eurocent. At the same time, 0,7 eurocenta comes at the expense of other operating costs (without processing SNF).
Total for the circle we have 2,2-2,4 eurocents for 1 kW * h.
And how are things going with "alternative" electricity? There is an excellent schedule as of 2015 year (prepared by apologists for green electricity):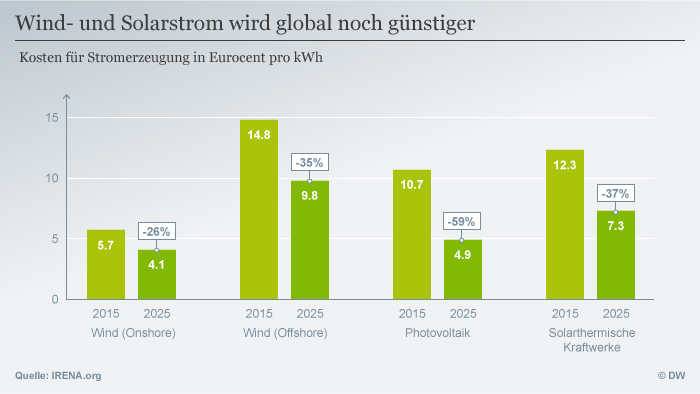 The first is ground-based windmills. The most profitable form of alternative electricity today. Today, the cost of generating 1 kWh of electricity with their help is "only" 5,7 eurocents. If the technologies do not let you down, then in 2025 there is an opportunity to meet the Eurocent already in 4,1 per 1 kWh.
Already not bad, but still much more expensive than electricity from nuclear power plants.
Other sources of profitability is even worse. For example, the electricity of offshore wind farms, even after 10 years, will still be 4 times more expensive than nuclear generation.
About SES and say nothing. The graph shows data for the world as a whole. As we understand, for Europe, due to its geographical position, indicators will be "somewhat" worse.
And we have to remember that it is impossible to increase the efficiency of wind generators and solar modules to infinity (there is such a "theory" that there is more than 100% in any way, and in fact even less), and therefore sooner or later the reduction in the cost of electricity generation by such systems will cease. And very soon.
In fact, this process has begun now. Today, the cost of electricity from wind power stations can only be reduced due to a sharp increase in their size (to 180 m along the upper edge of the blade). But they cannot grow to infinity either.
And we are silent about the fundamental problem of such a generation - stability of work, which for perfectly understandable reasons can never be compared with atomic.
So, it can be stated that the alternative energy of Europe, with other things being equal, can never compete with traditional generation. As soon as political circumstances change, everyone will begin to forget this inefficient and such expensive kind of energy. When will this happen? As mentioned above, it all depends on the policy ...