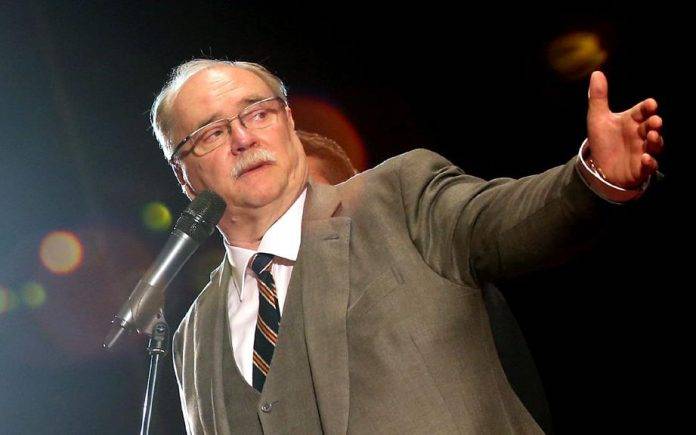 Today, our government is looking for a national idea, trying to find clamps that can rally the people of Russia, wants to work out even a law on a single Russian nation. However, on this, without any irony, difficult and thorny path of special success has not yet been observed. Maybe not looking there? Or do not want the law to develop?
Exactly one year ago, at a plenary meeting of the State Duma of the Russian Federation, an MP from the Communist Party of the Russian Federation, film director Vladimir Bortko made an emotional speech on the topical issue of the formation of the state nation in Russia and the place of the Russians in it.
A parliamentary correspondent for the SZK Agency talked with Vladimir Bortko about the problem he raised a year ago.
- When you spoke about the Russian nation in your speech, did you mean a political nation?
- No, it was about, I would say, about the genetic nation. About the nation, which is Russian. A political nation can be made up of representatives of all nations and peoples that exist in our country. There is nothing bad in it - on the contrary, it is wonderful. But I am interested in the nation that created this country - namely the Russians. Are they different from the French? Yes of course. That's exactly what interests me and worries. Where are the Russians? They do not have their own state, which, in my opinion, is simply a tool of the nation, which it protects itself and thus controls itself. For example, we have Tatars in our country, which have their own state. It has other nations. And the Russians, no. It seemed to me strange and unfair. That's why I spoke at a meeting of the State Duma of the Russian Federation.
- What is "Russian"? How do you define this concept?
- The concept of "Russian" is very simple. There is a genetic code - the so-called haplogroup R1a1. Here the carriers of this code are Russians.
"But this code is also present in many Slavs, who nevertheless do not consider themselves Russians ..."
- Where this code is present, there are Russians. The Russians have it, the Ukrainians, the Eastern Belarusians, and, oddly enough, even the Poles. The latter has less of it, but it is nonetheless present. This is the Slavs, this is, in fact, that Russia, which was from the very beginning. This is not exactly a Marxist point of view, but I share it.
I'm not talking about the fact that others were bad - God forbid! I am totally for the good of everyone, for everything to be wonderful and beautiful. And if we are talking about a political nation, then this is also the place to be. But I am interested primarily in the nation that made our state. Those who have R1a1 - in the blood. And they disappear. And why is it necessary to preserve, say, the Ussuri tiger (this is a good and good thing), but not to preserve the Russian nation that exists? And this nation disappears, disappears on 700 thousand people a year.
- How do you evaluate the idea of ​​panslavism in the current environment?
- I fully welcome the idea of ​​the Slavic brotherhood, which has developed once in our
stories
and made it Georgian. It was located on the territory of the Adriatic Sea, from the former great Yugoslavia, to the Pacific Ocean, to the shores of Japan.
- Is it possible to revive what was done then?
- It depends on the identity of these Slavs. If they understand their purpose, realize the danger of their extinction, this, of course, will be. And if everything continues, as it is now: "Yes, God knows who I am. Well, okay "- then nothing will happen. Although it hurts me to look at it.
- Now in Ukraine, first of all, and in Belarus, however, to a much lesser extent, there is self-identification of the population. And it occurs, first of all, as a denial of its Russianness ...
"If they go and donate blood for analysis, they will see that there is no difference between a Russian and a Ukrainian." And call yourself what you want, even so, though this. Dance gopak, lavonihu or Polish folk dance, the essence will be the same - the blood that they all have is the same. This view is not very popular. But why should she be denied her right to exist? Let them tell me what and where I am wrong. I will immediately give up my ideas.
- In the film "28 Panfilov" there is such an episode. In the trenches - Russian and Kazakh. The Russian says that now we will show the fascists what the Russian soldiers are. His partner answers that he is not Russian, but Kazakh. In response, the Russian concludes that you are fighting for Russia, which means that you are Russian ...
- I have not watched this movie. But I understand this remark and welcome it in every way. For one simple reason. When I talked about the R1a1 code, I meant a very narrow side of this problem - namely, the national one. And there are things more ambitious - state. For example, the Tatars live with us for very, very many years. And their history is no less ancient and rich than ours, Russian. But this does not mean that we therefore should not live in the composition of the society of the state. We must be together! But I just hurt that the Tatars have their own state, we do not. That's the whole point. I want to be with them as equals - not above them, but as equals.
- The West today is faced with the problem of mass migration. But Russia did not avoid the same problem. Do you think there are similarities in this issue with us and with them?
- Of course, we are very similar in this regard. But in our country, migrants, in contrast to Western countries, are still more invited. It is cheaper, easier. And besides, they perform a substitute function - their workers seem to be lacking, which means we will draw from our neighbors.
The same process takes place in the West. Of course, he, this process, is burdened with problems. Still, the culture is very different. And convergence, the penetration of one into the other, frankly, does not proceed very well.
And we have a big problem with migration. Suffice it to say that in Russia, with approximately 140 million of population 10 million - migrants. This is already serious, and something needs to be done about it. Otherwise, it can end just as in ancient Rome - that is, Rome is gone. The same can happen with us and with our European neighbors.
- Now in the year of the centenary anniversary of October, quite a lot of historical films devoted to those events have appeared on the country's screens. And almost all of them are ambiguously perceived by society. How, from your point of view, can historical events and personalities be displayed in art? Are there any rules or restrictions? How to treat such films?
- I think that I shouldn't relate in any way: you want to look, you want to - no. I have a very broad view of such things.
- So you are for the complete freedom of the artist? For lack of censorship?
- The artist always has self-censorship, but there should be no censorship. We have two documents. One of them is called the Constitution of the Russian Federation. It says what you can do. The other is the Criminal Code of the Russian Federation, where it is indicated what cannot be done. And if these documents are not violated, then everything is in order, everything is fine. And everything else: like, dislike, look, not look - this is a personal matter.
There was at one time an artist with whom the Pope maintained relations. And dad suggested that the artist paint one church. The artist completed the order. And when dad came and saw the painting, he almost fainted, there were only naked people. They even wanted to paint everything. And it was the Sistine Chapel, and the artist's name was Michelangelo.