Al-Hadi Hamid, head of the Sudanese parliament's defense and security committee, said the republic was ready to deploy a Russian military base on the Red Sea, as this would help in the fight against smuggling and slave trade.
Sudanese President Omar al-Bashir, who first visited Russia, said in an interview with RIA on Saturday
News
that he had discussed with the head of the Russian Federation Vladimir Putin and the Minister of Defense Sergey Shoigu the possibility of creating a military base in the Red Sea on the Red Sea. The Sudanese leader at the same time reported that no agreement on this issue was concluded.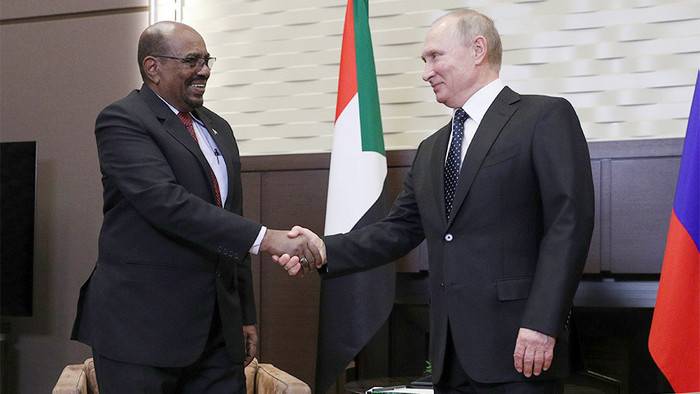 I think it will be reasonable and true if the Russian leadership agrees to create a military base on the Red Sea coast. This will certainly be within the framework of cooperation between countries in the economic and military sphere. I emphasize that Sudan is ready to accept Russian military bases, this is a great collaboration.
- declared Hamid.
The parliamentarian stressed the importance of cooperation with the Russian Federation in the field of military-technical cooperation. He also recalled the length of the maritime borders of Sudan.
We recorded a large number of violations: vessels enter our territorial waters, fish illegally, fishing boats also violate borders
- declared Hamid.
The volume of slave trade and smuggling is significant in the Red Sea ... we, as part of the international community, have to fight such illegal phenomena, protect our shores, therefore our cooperation with the Russian Federation and the creation of a base are not something surprising. This is required by the present time, such cooperation exists in all countries.
- he noted.
Earlier, the first deputy chairman of the Federation Council Committee on Defense and Security, Franz Klintsevich, said that Russia was ready to create a military base in Sudan if an official proposal from the Sudanese side was received. Presidential spokesman Dmitry Peskov on Monday did not comment on the topic of the prospects for creating a Russian military base in Sudan, reports
RIA News