The German shipbuilding company Fr. Lürssen Werft GmbH & Co. KG "won the tender for the construction of 12 patrol ships for the Royal Australian Navy, reports
bmpd
.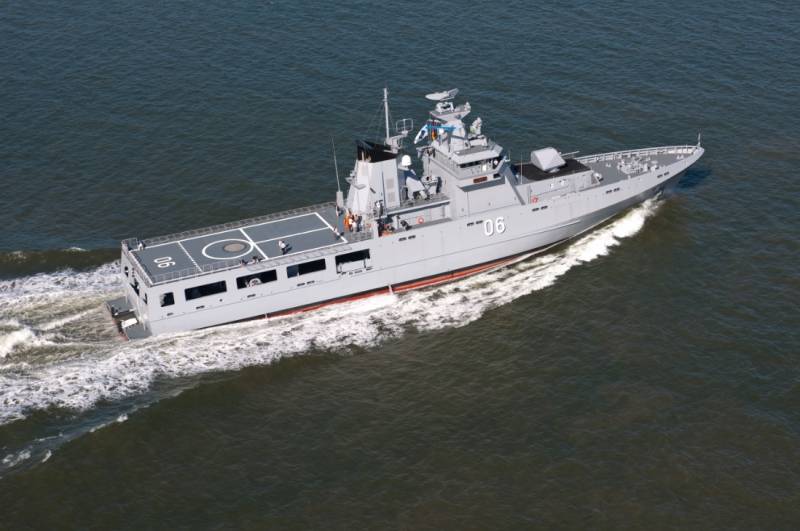 The head was built by the German company Fr. Lürssen Werft GmbH & Co. KG for the Brunei Navy patrol ship Darussalam project PV80. A modified version of this project was selected for the construction of 12 OPV patrol ships for the Australian Navy.
The contract value will be 4 billion Australian dollars. All ships will be built in Australia.
The patrol ships construction program was adopted in Australia in 2009. It was originally planned to order the 20 multifunctional ships of the Offshore Combatant Vessel (OCV), however, the number of ships in the 2013 was corrected - only 12 ships of a purely patrol mission appear in the program today.
According to the resource, "the selected project of Lürssen is a ship about 80 meters long and with a standard displacement of about 1700 tons, and is a modified version of the PV80 project, according to which Lürssen had built four 80-meter Darussalam patrol ships for the Navy Brunei (delivered in 1625-2011) ".
It is reported that "the ship must be armed with 40-mm artillery, have three 8,4-meter quick-launch semi-rigid motor boats, a takeoff platform for an average helicopter and the possibility of basing helicopter UAVs."
The crew of the ship - 40 people. The possibility of placing another 20-ti people. Ships should be equipped with ASBU, which will be supplied by the Australian branch of the Saab group.
At the final stage of the tender, the winning firm competed with the German company Fassmer, and the international group Damen Shipyards (headquartered in the Netherlands).