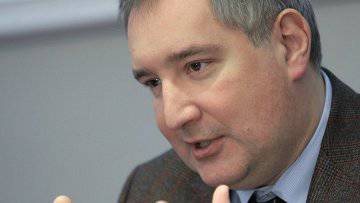 RIA News
. The Russian equivalent of the United States Department of Defense Advanced Research Agency (DARPA), which is planned to be created in the near future, will have to create
weapon
which will not catch up with foreign samples on the technological level, but will be ahead of them for years, said Deputy Prime Minister Dmitry Rogozin in an interview with National Defense magazine.
The Military-Industrial Commission under the Government of the Russian Federation has already completed the development of a draft law on the creation of the Advanced Defense Research Fund, which will become the equivalent of the American agency DARPA. According to the deputy prime minister, the document is now under consideration by Prime Minister Vladimir Putin, later it will be sent to the presidential administration of the Russian Federation, and then to the State Duma.
"The task of this structure will be to inform the country's leadership on projects that can give us not just an equation with other military powers, but will ensure our superiority. This is our global task - to achieve superiority," said Rogozin.
He added that the Russian agency will also analyze the risks of technological lag and technological dependence of the Russian Federation on other powers. According to the vice-premier, the new Russian structure will first have to "close the niches where we are technologically lagging behind." According to him, this is the element base, metal, armor, special chemistry, ammunition.
Rogozin remarked that Russia needs to think not about what they are doing in the USA, in France and in Germany today, but "about what they will have in 30 years." For this, we need foresight, forecasting and strategic intelligence, which will help Russia win, said the Deputy Prime Minister of the Russian Federation.
"We are obliged to abandon the idea of" catching up and overtaking "... We need to calculate the course of the armed struggle with a prospect of up to 30 years, determine this point, reach it. Understand that we need to prepare weapons not tomorrow or even the day after tomorrow, but on the
historical
a week ahead, and thereby "cut the corner," "he said.