The CAA steps into militant positions on the eastern outskirts of Damascus and in the south of Aleppo province. A major terrorist attack took place in the city of Maadan Jadid, north of Deir-ez-Zor. Reports about it
FAN
with reference to Syrian sources.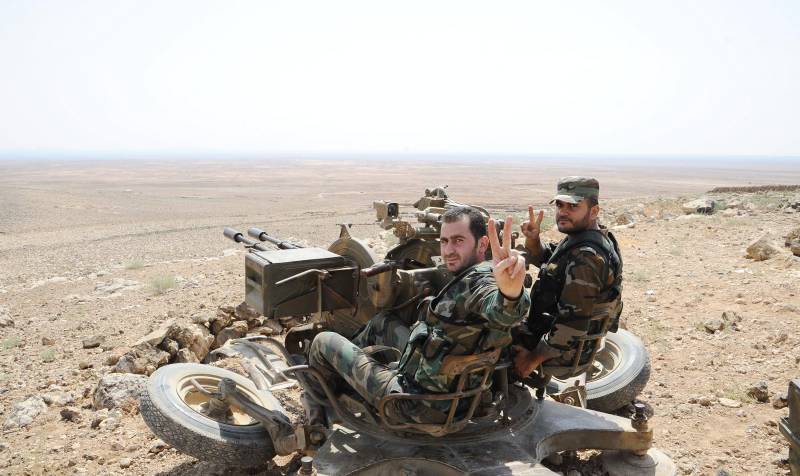 In the past 24 hours, the Syrian Arab Army (CAA) launched a new offensive in the Jobar area on the northeastern outskirts of Damascus. Violent battles, in particular, were on the line of demarcation with militant detachments in Eastern Gute. The Syrian air force conducted a combat mission in the vicinity of the city of Beit Jeanne in the north-west of the province. Under the attacks were the strongholds of Islamist militants who are preparing an operation to seize the village of Khader, located in the territory of neighboring Quneitra. Taking this key city would allow the radicals to unite the two enclaves near the border with Israel.
Government forces resumed attacks on the positions of the Dzhebhat an-Nusra group (banned in the Russian Federation) in the vicinity of the city of Hanasser (southern part of the province of Aleppo). Air force support was provided by the SAR Air Force that attacked the fortifications of terrorists in the vicinity of the settlements of Rasm Sayal and Ramla.
SDF fighters who seized territories in the east of Deir-ez-Zor province released one of the high-ranking leaders of ISIS, Abu Tanah. The militant who fell under the amnesty of the Kurds was implicated in the organization of the violent mobilization of civilians in the ranks of the IG (banned in the Russian Federation). Thus, the ties between the Kurdish "Democratic Forces", enjoying the full support of the United States, and the IG continue to strengthen.
In the city of Maadan-Jadid in the north of the province of Deir-ez-Zor in the past day there was a terrorist attack that claimed the lives of dozens of people: an explosive device worked inside the city hall building. More than 20 CAA troops died. In addition, at the scene died the head of the district administration.
In the neighborhoods, Raqqi is still uneasy: over the past 24 hours, five civilians died as a result of explosions of improvised explosive devices, and at least two more were wounded. This situation was possible due to the fact that the Kurdish fighters of the "Democratic Forces" who beat Raqqa from ISIL with the help of the Western coalition, have not yet finished clearing the territories. The operation to clear the city of mines, stretch marks and IEDs started only last week, when the population started to return to Rakka.
On the territory of the province of Hasaka, which is almost completely controlled by the Kurdish National Self-Defense Detachments (YPG), a convoy arrived, consisting of about one hundred trucks. The United States, providing Kurds with military and political support, this time delivered a batch of Hammer armored vehicles to their wards. It is worth noting that Donald Trump, following the results of recent talks with Recep Tayyip Erdogan, promised the Turkish President to reconsider his attitude towards the Kurds. In particular, they talked about stopping the financing of the Kurdish armed formations.