If you believe the rating of "Reporters without Borders", then longing and sadness. Russia took the 148-place in the world ranking for the year 2016. And on this subject, a groan and cry began in many media on our territory, the majority of which we used to call either "yellow" or liberal.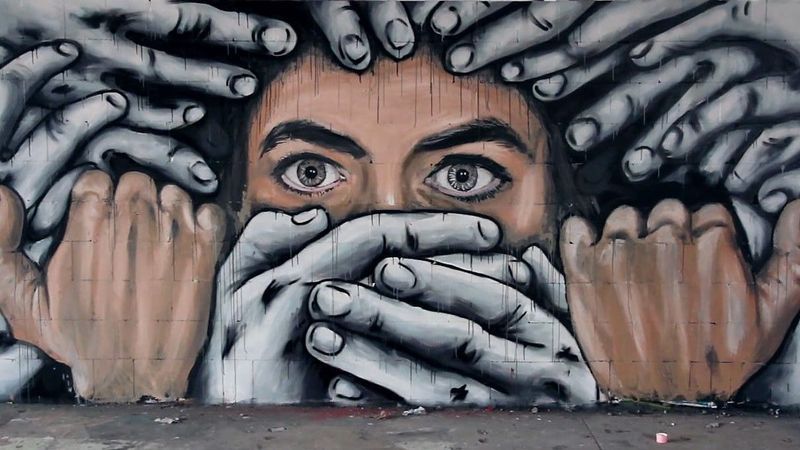 Some of our pseudo-politicians do not get tired of broadcasting about this.
With them, perhaps, we will begin, and we will finish them. For example, it is ok Sobchak. Let us leave aside what she is carrying on "Rain", a TV channel that is included in the main television broadcasting network. This is for the audience with very very strong nerves. But the fact that no one there does not infringe and limit.
But when Sobchak begins to sob in his voice about the fact that we do not have freedom of speech at the show at Solovyov, which is on the central TV channel "Russia", this is overkill. And obviously from Sobchak. Not from the RTR.
All these moans about "free 90's" are understandable. Then you could carry any nonsense. And what you know, and what you just sucked from the finger. Or not from a finger.
Today this is simply impossible, because there is the Internet. Firmly on its feet and sheltered in its open spaces, thousands of large and small media, as well as bloggers. And they are all ready to check-recheck what has been said on the screens, so that later (if anything happens) to arrange what is called boiling and throwing.
Freedom on the screens is more than enough. Who wants to whine - whines. Who wants to broadcast about the imminent end of the world - please. Those who simply want to copy-paste stolen content from the Internet on television, posing as their own thoughts, are not a problem either.
Each channel works for its audience to the best of its abilities and perversity.
And with censorship, we in this regard are very bad. How else to explain polupushnye and immoral shows, in which, by the way, the same Sobchak plows the full program on TNT?
Say, politics? And its enough. And the same things different channels presented in different ways. Here is an example, the first thing that came to mind is Timur and Amur, a goat with a tiger. Someone showed it as a funny case from the life of animals, someone instantly gave it a political background. And someone howled about the violation of the rights of goats in Russia if the tiger would really gobble up the goat. And again he brought the idea that everything in Russia is bad.
In no way do I claim that everything is fine here.
Another question is that events can be interpreted in different ways, but the essence is difficult to change. Not that time. But who says that there is censorship?
Yes, censorship would not interfere precisely in the moments of search. As with the "crucified boy" in the Donbas. But we really are not very censored. Not like in countries with developed democracies. But there and with the freedom of speech, everything is far from the way it is with us.
Of course, if for freedom of speech to take caricatures about terrorist attacks or catastrophes - then yes, such freedom in the same France is a shaft.
But for some reason, silence and grace on the topic of lawlessness on the part of the "refugees". Across Europe.
And here it is worth clearly distinguishing two points: journalism and propaganda (bold).
Any state-owned media, whether it be Europe, the USA, Russia, Ukraine, or China, is primarily a propaganda tool. And the primary task of this tool is to show how good things are with us and how bad things are with them. And that's fine.
Abnormally, again, in the performance of our TV channels, outright foolishness like "The US is a dark empire, everyone in the States wishes the evil of Russia - Russia is the bright side of power, we will win! And now with the help of SMS, we will collect a Russian boy, Igor, for an operation in the USA. "
But the crap in the performance of TV channels is nothing but a complete lack of control over them.
The Internet. Different sources estimate differently the number of those who prefer it to television. But it is already clear that the Internet is winning more and more viewers / readers every year.
It is understandable: who are not interested in propaganda on a blue screen, he will climb into the network, to his trusted sources. The main thing - there is a choice. For "Military Secrets" is enough, for whom the controversy on the "Military Review" serve.
Kohl talked about "IN". If we talk about censorship and lack of freedom of speech. We can not say that we suffer from this. If we talk about censorship, everything is simple here: "Roskomnadzor" is built solely to the point that we did not tell you one time ten times for an article that ISIL is a banned organization in the Russian Federation. But this does not go under the article "atrocities of censorship", it is just more in the department of foolishness.
Well, the main income from us is fines for using obscene language in the comments of readers. Here, of course, the only question is the effectiveness of moderation and the internal culture of commenting.
To say that we generally suffer from a lack of freedom of speech, the language does not turn.
Criticism? Yes, no question at all. Many individuals and ministries snatched from us. Perhaps only Putin and Lavrov did not touch. But this is not a question of censorship or opinion imposed on us, but the choice of the editorial board. We support the course that the president is trying to implement, with all that follows. Although, if we talk about criticism of Putin, then, I remind you, we did not note a "reversal" in relations with Turkey with shouts of "Hurray!" Rather the opposite.
Who wants to water on the Internet everyone and everything, too, as if not experiencing problems with it. Almost does not test. How many were blocked by the media for one reason or another by Roskomnadzor? Less than porn sites or torrents. Of those who have blocked freedom of expression, I recall only "Grani" and Kasparov. Kasparov, even with a stretch, cannot be called his own, "Edge" ... Well, they crossed the line, like "Censor" with "Correspondent".
So this is not so much a struggle with freedom of speech, as a struggle with a different system of influence on the audience.
The absence of this very freedom is, in my opinion, the same myth as the interception of the means of communication on the Internet by the special services. That is, perhaps it is, but not for everyone. Let's just say, this in no way affected the immediate environment in terms of geography.
Same thing with the media. If by "freedom of speech" we understand what was in 90, that is, the total spitting and maneuvering of everything that could be reached, then yes, we have no such freedom today.
But it is not there, not because the state is tying hand and foot media. Because the viewer / reader has become smarter. Part at least. Who remained at the level of amoebo-consumer, that is the First Channel above the roof. Or TNT. Each sandpiper - its own swamp. And every toad.
The main problem of the lack of freedom of speech in Russia, perhaps, lies in the fact that those who scream about it most of all want a different word. It is in the spirit of 90's. Sheer humiliation and repentance. Well, and stories about how many who stole.
How many who stole, and they tell us. Unlike "them." They do not steal. They are all decent and correct.
Well, forgive me if we do not justify democratic hopes.
But it is precisely this freedom that we have for more than those who fight for it. We quietly broadcast without any infringements and "Freedom", and RBC, and CNN. And they began to have problems only when RT began to be oppressed in the stronghold of free-thinking. And here, please, the mirror answer.
As I understand it, the term "freedom of speech" must be interpreted as follows: a word must be free that Russia humiliates with. According to western canons, the free word must be exposed and exposed. Open and flaunt. But - exclusively in relation to Russia.
Democrats prefer to keep their garbage out of the hut not to take it out.
And where, if not in the United States, show Russia exclusively from the side that Mordor and all that? This is where propaganda and censorship go hand in hand.
Yes, a couple of words about censorship personally on my own.
They talk a lot about supposedly total wiretapping of everyone and everything. Well, how in a totalitarian country without it? Moreover, under the regime headed by a former KGB officer.
I, naturally, communicate / talked with representatives of different countries. I had two subscribers from North America. One by one in the USA and Canada, from among our readers. It was difficult to communicate, but possible. Because of the time difference. But do not.
Our communication did not last long. There is no point in talking about prices, weather and lifestyle. I was interested in something completely different. But when at the word "Crimea" or "Donbass" a person makes "terrible" eyes and crumples, ends the conversation ... Freedom and democracy just stinks.
On the other hand, when communicating with representatives of Israel, Belarus and Ukraine, I do not know how many articles they said. And nothing, no one sat down for some reason. Although in Ukraine, if they were listening, they would surely be stunned.
Now about censorship and prohibitions for the media, from the point of view of the reporter.
In the summer, there was some kind of demarche when we left the ARMY-2017 ahead of time and I wrote two very critical articles about the mess that was going on there. I didn't like this very much at the Ministry of Defense, I had several conversations with various representatives from a lieutenant colonel and above. I remained unconvinced, although the comrade officers tried to smooth it out.
Now, if we really had somehow violated the totalitarian rights of the media, then such performances simply had to follow the punishment in the form of a ban. I admit, I was ready for this.
However, nothing of the kind followed. Nobody demanded to remove articles, no one demanded refutations or something like that. Indeed, in one moment we were incorrectly informed by a person who did not possess information. I wrote about it, apologized, the incident was settled.
And after a while I was still shooting tankers, motorized riflemen, pilots, and rebels.
Yes, the army is more difficult to shoot than anything else. Especially where there are corresponding vultures. But - not impossible.
Of course, all the representatives of the Ministry of Defense want the picture to be like on a "Star": we will win everybody and all that. This is normal. Only sometimes it does not work.
But some kind of total "take there and not take here", we have never met yet. There are, of course, nuances, especially in Rabi. But this again is understandable and understandable.
I would like, of course, to shoot more, but here, as king-father from the press service of the Western Military District, I will dispose.
I do not quite understand what other freedom of speech Sobchaks need. Nobody forbids criticizing, exposing, publicizing (Navalny will confirm, if anything), making conclusions and analyzing. Neither Navalny, nor Sobchak, nor Albats ...
So what's missing? Drive? Or, maybe, there is just a shortage of "truths"?
But forgive me, this is already the choice of everyone writing or filming. Except, of course, state channels.