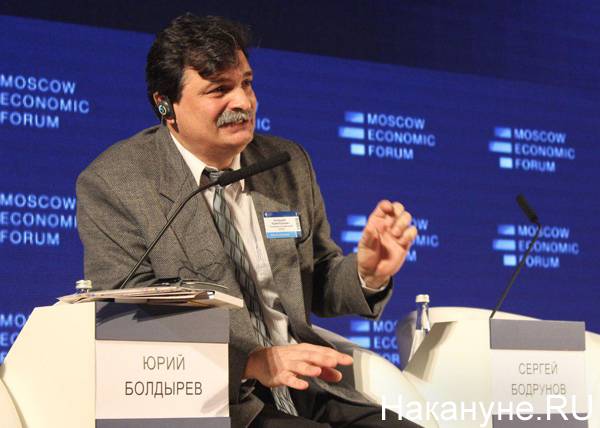 President Vladimir Putin said that all large enterprises should be ready to increase military production. "The ability of the economy to quickly increase the volume of defense products and services at the right time is one of the most important conditions for ensuring the military security of the state," the president said. At the same time, Vladimir Putin noted that he gave the relevant instructions on the modernization of production facilities, the formation of a reserve of material and technical resources, ensuring the transportation of troops in 2016, and asked to take stock of what has been done. Economist, former deputy chairman of the Accounting Chamber Yuri Boldyrev is confident that this measure was late for 10 years. He shared his expert opinion with Nakanune.RU:
- These measures are ten years late. Ten years ago, if you remember, Putin's Munich speech was delivered, and then Serdyukov was appointed Minister of Defense. It is characteristic that since then no deoshoring of the economy has happened, despite all the promises.
An attempt to transfer production to some kind of mobilization, military rails in conditions where real financial, organizational, human resources are not concentrated at all, unfortunately, for the time being resembles ringing, but useless PR.
And, God forbid, that there should be a situation when we have to really carry out military mobilization. In order to prevent this, it was necessary in order of priority already 10-20 years ago to begin to carry out socio-economic mobilization. Do not talk about de-offshoring, but actually do it, not create parasitic layers between state corporations and the budget, but create rigid control mechanisms so that every penny from such a corporation goes entirely to the budget, and not to fake opaque structures.
Now, at the very least, it is necessary to start concentrating financial and economic resources on accelerated industrial and technological development. Without this, talk of accelerated mobilization is meaningless. As this concentration was not, and no. We remain in the chains of the WTO, our science continues to be destroyed by the hands of our government. And without science, there can be no defense capability. If you really carry out mobilization, then, in the conditions of sanctions, it would seem that this is an extremely convenient moment for this.
Talking about military mobilization is very beautiful, but first there must be a scientific-technological, industrial mobilization. And it is not. And there is no sign that it will start sooner or later. Nabiulina, Dvorkovich and Shuvalov, but I don't say anything about Chubais, Gref and others, and in no way contribute to the mobilization of the country. This is the real team of the president, not the one he gathers for the election of artists and athletes, and there can be no mobilization.
In general, if there is political will, any group of people, respectively, and any legal entity, enterprise, regardless of what form of ownership it is in - there is no problem to transfer to the mobilization rails. It is desirable that for this there was a real need, and not because "offshore friends" wanted to squeeze out the last juices from your enterprise under the guise of mobilization. The US experience after the military depression shows: private property or not private - there are no obstacles for mobilization. It is important that this be the mobilization of the whole society and the whole state. And not so that we tighten the belt, and friends of the authorities in offshore will be happy with how well they are all "prodinamili" under the guise of mobilization.