The State Enterprise "Zhytomyr Armored Plant" (part of the Ukroboronprom Group of Companies) completed a thorough modernization and production tests of the BMP-1UMD.
The BMP-XNUMHUMD successfully completed all the running, fire and other operational tests, confirming its high performance, which greatly expanded the combat capabilities of the BMP
- Said in "Ukroboronprom".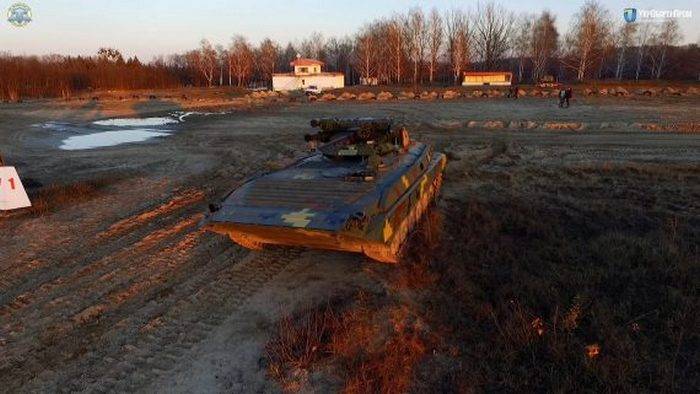 It is noted that the deeply modernized BMP-1 is equipped with a "modern combat module", a digital fire control system, the German Deutz engine. On the BMP, they installed an 30-mm automatic gun, an 30-mm automatic grenade launcher, a 7,62-mm machine gun and the Barrier anti-tank complex.
It is alleged that due to this BMP-1 can destroy
Tanks
at a distance of up to 5 km. The accuracy of the Track-M complex and the stabilizer SVU-500-3C are responsible for the accuracy of the fire.
The protection is supplemented with work on masking the BMP-XNUMHUMD in the infrared range - the car, according to the concern, became less visible through the thermal imager.
The weight of the BMP-1UMD is 14 tons - by 1 a ton more than that of the usual BMP-1, the concern notes. The engine has power in 330 hp, power can be increased to 390 hp The former engine, said in "Ukroboronprom", power was HP 300.
Note that the BMP-1 was developed in the USSR in the 1960, and put into service in the 1966 year. Serially produced by 1979 year. In December, it was reported about testing in Ukraine BMP-1 with a new digital fire control system "Hunter".