I came across an interesting book on the Internet, called Sovetia. In it the author gives some interesting opinions on various topics. Just want to say that I am not an ardent communist or a supporter of the revival of the Soviet system in one form or another. With some of the statements in the book, I disagree. But, nevertheless, the opinions expressed by the author, in my opinion, deserve the attention of even those people who do not consider themselves communists. I want to add that the author wrote in 2001, so some of his arguments and words may seem irrelevant.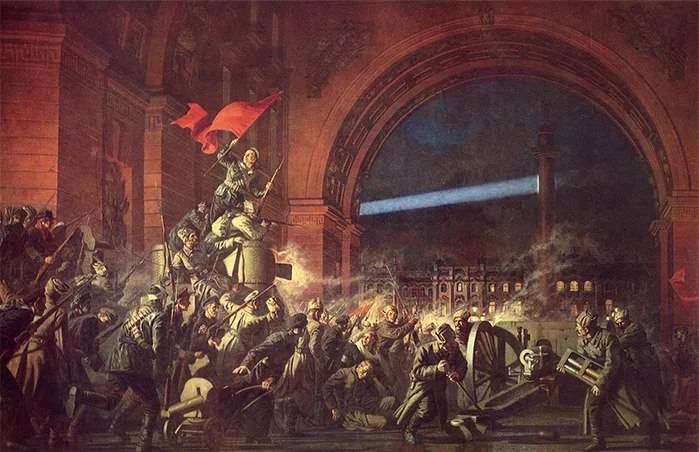 Introduction
Having used the word "Soviet" in the title to these notes, I was well aware that many people were sick of this word. This word to a large extent was discredited by the discrepancy between the Soviet maximalist ideals and the Soviet reality. Maximalism is a noticeable (and probably the most harmful) trait of the national character of the Soviet person. In his view, society should either be perfect on 100% (and even better on 150% and with an early over-fulfillment of the plan), or not at all. There is no third. Meanwhile, in principle, society cannot be absolutely perfect, and milk and dairy rivers do not flow even in America. Yes, that society - a simple steam engine cannot have the efficiency of 100% - and not because it is poorly designed, but because the laws of physics require a certain amount of heat to be thrown into the surrounding space idle. Of course, I'm sorry heat - as much coal it spent, but without these inevitable losses spinning machine generally will not (see any textbook physics, "Thermodynamics" section.).
The slightest discrepancy between the ideal and reality is perceived by the Soviet man as a tragedy, from which there can be only two ways out: either to absolute cynicism and nihilism, or to renounce old ideals and accept new ones (say, yesterday was a communist, and today a Christian and an adherent of economic Adam Smith's teachings are the only true, guiding, and omnipotent.) The third possible way out, unfortunately, is seen by only an insignificant part of the Soviet people — those who understand that ideals are called ideals because unattainable in reality. Like a guiding star, the ideal only indicates the direction of motion. To reach this star is impossible, but this does not mean that attempts to go in the direction indicated by it are meaningless. Only by moving towards the ideal can we become at least a little bit better, smarter and kinder, and only this movement makes life meaningful. You have to choose your star and go without changing it - only then can you go far enough. The change of ideals gives practically nothing - the new star is as unattainable as far as the previous one, but it has to go in a different direction, and the path traversed before by the cost of millions of human lives becomes meaningless.
I think that the root of almost all the current misfortunes of the Soviet people is that too few Soviet people were able to understand this. The Soviet people caught up with and overtook the Americans for the production of steel and rockets, but hopelessly fell behind in the most important thing - in understanding this. When the truth about Vietnam came to America in 60-s, the truth that a certain lieutenant of the US Army did to the peaceful residents of the village of Songhi, it seemed that the stars and stripes of the American flag could no longer be washed away from the caked blood on it - too much starting with the blood of millions of American Indians ruthlessly slaughtered back in the 19 century. It seemed that this flag could only be burned, as many American students did then during mass protest demonstrations. But then, among the Americans, there was a clever man who said: "Don't burn it - wash it!" ("Do not burn it, and wash!"). And to their credit, it must be said that they have found the strength to understand: the only way out of the crisis of national self-consciousness is to work, every day and diligently, to make America better and cleaner so that one day they can be justly proud again its flag. It is very long and difficult, but the only way on which you can really become today is a little better than yesterday.
And what did we do when we learned the truth about Afghanistan and the Stalinist camps? In Lewis Carroll's fairy tale "Alice in Wonderland" there is a wonderful episode of insane tea drinking at an incredibly long table: having drunk tea from one cup and thoroughly making a tablecloth around itself, the guest transplanted to a nearby place where the still clean cup stood and the tea party continued. Something similar happened to us: "No, this flag cannot be washed off!" - Said the "former" Soviet people, and the hammer-and-sick red flag flew into the garbage can. Instead, they got a lot of multicolored flags copied from the textbook.
stories
- and tea continues. To clean up after ourselves is not in our rules, and when we make another flag, we will dig out another one in the historical museum - the benefit of our history is rich. But this road leads nowhere.
I wrote these notes for all Soviet people, even for those who no longer consider themselves Soviet. Because in order to become better, you have to face the truth and understand who you really are, and not who you imagine yourself in fantasy. In the end, we must reconcile ourselves with our history and our Soviet origins, learn to be proud of what we can truly be proud of in Soviet history, and be ashamed of what we should not be proud of. Because only when it is embarrassing, I want at least something to fix. Those who have completely renounced their Soviet descent seem to be easier to live: Soviet history for them is not their history, not their heritage, and they seem to have nothing to be ashamed of, but they have robbed themselves of being people without roots, without history and culture. Of course, they can consider themselves the heirs of pre-revolutionary Russian culture, but this is a big self-deception, because we want it or not, we are first and foremost the heirs of our fathers and grandfathers, and not some semi-mythical pre-revolutionary great-great-great-great-grandfathers. It's impossible to erase 70 years from the history if these 70 years fit the lives of your father and grandfather. I hope that sooner or later these people will understand the futility of escaping from themselves.
But besides them, there are many people who have ceased to consider themselves Soviet by sheer misunderstanding. It is very difficult for a Soviet person to understand who he really is, because every Soviet person has a so-called "passport", where there is a "nationality" column, and many people believe what is written in this graph. Indeed, this graph sheds some light on which ethnic community belonged to some (not all) of the ancestors of the man who lived up to 1917 years. But its contents often say absolutely nothing about what the passport holder himself is, what cultural-ethnic community he belongs to. Very many people, educated by Soviet civilization in the spirit of Soviet ideals, who embraced its values, absorbed all the advantages and disadvantages of the national character of the Soviet people, having read the "Russian" entry in their passport, take it in all seriousness, although they actually touched Russian culture only in the classroom literature, when "passed" (often by) Russian classics. Having accidentally heard somewhere that all Russians are Orthodox, such a person begins to perceive the entry in his passport as a guide to action, and immediately goes to church (where his ancestors did not go for two or three generations). At the same time, he is completely unaware that such a touching confidence in the Soviet passport once again confirms his inborn "sovkovost"
Recently, a guide to the Soviet Union, published in the USA in 1986, fell into my hands. "If you ask the Soviet people who they are by nationality," wrote the authors of the guidebook, "do not be surprised if you hear the answer: Russian, or Ukrainian, or Lithuanian, or Uzbek. No one will say in response that he is Soviet." For Americans, this is truly amazing. If you ask any American - whether he is American Irish, Italian, or even of Japanese origin - who he is by nationality, he will answer without hesitation: American. Further, the authors wrote that the young Soviet nation has not yet developed an awareness of their national identity, and predicted in this connection great problems in the very near future.
We ourselves have driven ourselves into a trap. On the one hand, we seem to have recognized that nationality is determined primarily not a hair color or shape of the nose, and membership of a particular cultural tradition, a certain civilization. And in the USSR there was such a single civilization, which absorbed tens of millions of people into its orbit. Proponents of this civilization were happy that it abolishes interethnic and interreligious barriers and brings us closer to the day when a single humanity, not divided into nations and religious denominations, will emerge. Opponents of her outraged by the fact that it also destroys the ancient cultures and religions. But neither supporters nor opponents of this civilization could not deny its enormous assimilating power. Nevertheless, we, the Soviet, apparently, are the only nation in the world whose language does not turn to call themselves by name. For political reasons, obviously. Our thinking is politicized to such an extent that in the words "We are Soviet" we still see a declaration of love for the party and the government, instead of simply stating the fact of nationality. However, it's time to understand one thing.
We speak different languages. Our ancestors were people of different nationalities and worshiped different gods. However, we all belong to one nation, as raised in the framework of the same civilization, the same culture, which is so historically, it called the "Soviet". We can argue about whether this civilization is good or bad, but we cannot undo this accomplished fact of our biography. We can either 1) try to make this civilization better than it was, or 2) scatter around its corners and start each building something new and its own from scratch, because, again, regardless of whether it is bad or good, national cultures that existed on the territory of the "one sixth" before the revolution was almost completely destroyed during the Soviet period - this is also a historical fact that cannot be ignored. The path of separation is the path of interethnic conflicts and the destruction of the country's single economy. This is the way to the world, alien to each of us - we can get (and are already starting to get) into a completely unusual cultural environment for us. We seem to be foreigners at home. We must be aware that new countries that have arisen on the ruins of the USSR will always be completely alien to us, even if we ourselves are their creators. Of course, we will somehow adapt to the new situation, but a person's ability to adapt to unusual situations has its limits, and this limited reserve of adaptability is necessary to adapt to the changes brought about by ongoing technological progress. To spend this reserve on adapting to unwarranted social changes is too much luxury.
I have seen too little of the Soviet people understand that. I could not dare to start these notes. I am not a historian, and therefore what I write may be very vulnerable to criticism from a factual point of view. But I am convinced that until we decide to say the only words that make us all one nation, not divided into nations big and small, into "elder brothers" and "younger brothers", those words that turn the whole one sixth part of the land in a common house for all the people inhabiting it, we are doomed to civil strife. I am writing these notes in the hope that I can at least help someone to get rid of this damned psychological complex. Realize who we are, where we come from, and where we are going. Understand what our place is in history and in the universe.
Read them. And try to say "We are Soviet." To say, not ashamed of it and not boast about it. To say this is simply a statement of fact: such is our nationality. Nationality is not chosen - it picks us at birth.
Try it. It's so easy. And this will be the first step to the recovery of our country.
What is this book about?
Speech in this book will go:
1. The fact that the Soviet people exist, although it does not include all citizens of the former USSR (as it was tacitly assumed in Brezhnev times). That it is not just a continuation of the Russian people, and that the people that we now call Russian, in large part of it consists not of Russians, but of Soviet people.
2. About what, what happened in Russia in 1917, was not just a coup. It was not even just a social revolution, necessary for the implementation of the industrial revolution, the purpose of which was merely the transition of Russian society from pre-industrial to industrial society (as most Western historians believe). In fact, it was a great civilizational "mutation" that led to the emergence of a completely new type of civilization, for the first time in human history based not on religion, but on the scientific worldview, a civilization far ahead of its time, and therefore still largely unclaimed, because in parallel with the construction of an industrial society, it also laid the foundations of a post-industrial society.
3. About the current crisis of the Soviet civilization caused by the crisis of the communist ideology. The fact that the crisis of communism is a particular manifestation of the global crisis of humanistic civilization.
4. About the current crisis of world civilization. The fact that this crisis is a consequence of at least two main reasons: 1) the "locked up" of Earth civilization in the "gravitational well" of the planet Earth with its limited resources; 2) the internal crisis of industrial society, built on the classical capitalist model.
5. About ways out of crises. That overcoming the crisis of Soviet civilization cannot be considered separately from overcoming the crisis of world civilization as a whole. The fact that overcoming the crisis of Soviet civilization can help the whole of humanity come out of the crisis, and that Soviet civilization can hardly exist if it is not possible to get rid of the main causes of the crisis of world civilization (i.e., overcome the interplanetary growth barrier and go to a more complex model of the world community, which includes a local civilization that plays the role of a locomotive of technical progress).
6. On the means of exit from crises. About how our point of view on the past and the present predetermines our future. The fact that opposing points of view do not contradict each other, but complement each other (the Bohr addition principle). About the fact that not all points of view are equally good - some of them ("destructive points of view") can lead us to disaster, while others ("constructive") can help us achieve the desired result. About the fact that we need to understand exactly what future we want to live in, and based on this consciously build our world view.
7. About that, what kind of a "bright future" we really want, and how much it really, if we assume that we know the general trends in the development of the universe, society, and technology.
8. And how exactly we should go to this "bright future".