The ship of communication Ivan Khurs, which is being built at the Shipbuilding Plant Severnaya Verf, is completing preparations for sea trials, the press service of PJSC Shipbuilding Plant Severnaya Verf reported. Now the vessel is on a test bench in the Neva water area.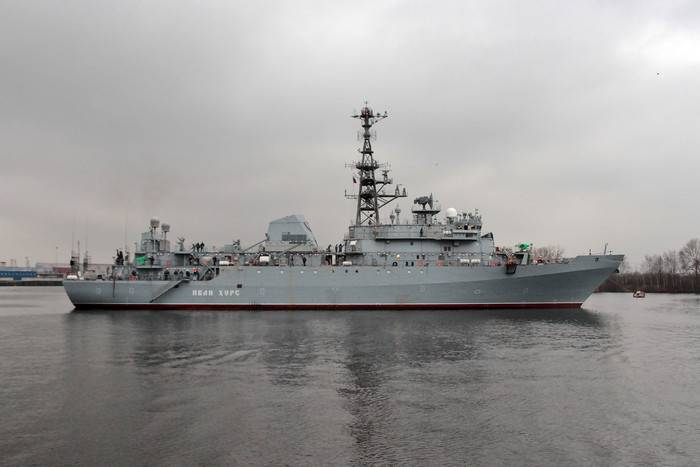 As stated at the "Northern Shipyard", the technical readiness of the vessel is 99%. Now it ends work on the schedule of mooring trials. In particular, the engines, diesel generators and steering wheels are tested in operating modes. Builders perform degaussing ship hull. This time, shipbuilders are using a new factory-free demagnetizing demagnetization technology that is less labor intensive and more efficient. The transfer team is preparing for an early exit to the sea trials. Now the team continues to study systems and equipment, participates in exercises for survivability, evacuation from the ship and other stages of preparation for ship control.
The communications ship, named after Vice Admiral Ivan Kuzmich Khurs (29.09.1922/28.12.2002/XNUMX - XNUMX/XNUMX/XNUMX), who made an outstanding contribution to the creation and development of permanent intelligence of the USSR Navy, is designed to provide communications, control
fleet
, solutions to special problems and is built to replace old-generation counterparts that have expired. The communications vessel has significantly improved the efficiency and operational characteristics of ship power, and extensive automation of control of technical means and weapons has been introduced. "Ivan Khurs" has excellent seaworthiness. The flagship of this series, "Yuri Ivanov", was transferred to the customer in 2014.
The main characteristics of the ship connection project 18280: displacement 4 000 tons; length 95 meters, width 16 meters; Speed ​​16 knots, cruising range 8 000 nautical miles; crew xnumx man