Russian sappers received a compact robotic engineering intelligence complex "Dragonfly", equipped with a non-linear radar, video camera and GPS-module, according to
News
.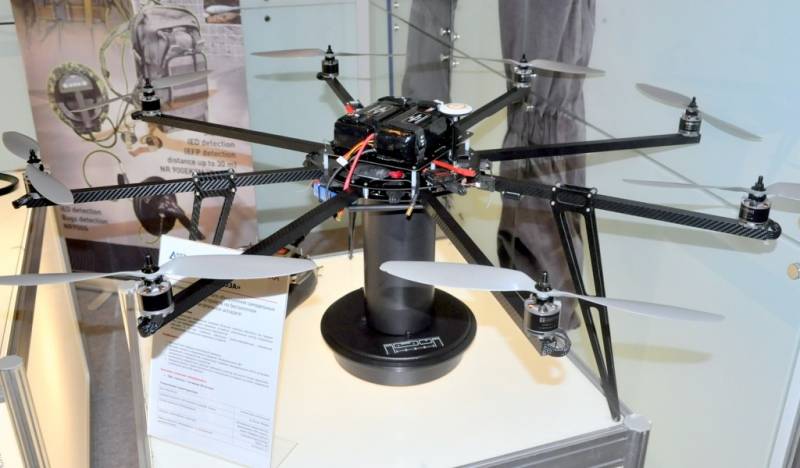 The drone is designed to remotely search for mines and improvised explosive devices and has already been tested in Syria. The drone is able to quickly survey a large area and identify sources of danger.
"The task of" Dragonflies "is to replace the sapper with a mine detector, especially in the open-field through fire. The BLAH starts from the armored vehicle, in which the operator remains, and automatically scans the area methodically. Upon detection of the explosive device "Dragonfly" determines its coordinates and in real time transmits them to the control panel, "- said in the material.
The mass of the device is 12 kg, it can be airborne for up to 40 minutes and carry around 2-kg payload. The speed of the flight of the UAV during reconnaissance is up to 20 km / h.
Dragonfly carries a non-linear radar, HP-900K Korshun, designed to search for controlled mine-blasting devices and other technical equipment containing semiconductor components, both in the on and off state. During the tests, the complex found explosive devices from a height of 30 m.
Using the camera mounted on the drone, the operator can inspect a suspicious object. According to experts, the use of such UAVs significantly reduces the risks to the life of sappers and accelerates the clearance of the area.
Militants are very insidious, which led to a massive lack of fear among the military personnel of government troops (Syria). Russian sappers play a very important role there, so the enemy comes up with sophisticated traps. Often in Syria, the militants installed powerful land mines covered with clay and disguised as stones in an open area, and then detonated them through a radio channel. Also for the sappers working in the city, the snipers of terrorists were dangerous
Oleg Zheltonozhko, a military expert, told the newspaper.