The first photo of a promising self-propelled howitzer "Coalition-SV" on a wheeled chassis has been published on the Internet. The picture was taken in July at the Mulino range in the Nizhny Novgorod region, where the commanders of the armed forces of Russia and Belarus were shown the latest military equipment.
Recall 152-millimeter self-propelled gun "Coalition" was developed in the Nizhny Novgorod Central Research Institute "Burevestnik". A prototype of self-propelled crawler self-propelled guns was demonstrated at the Victory Parade in Moscow. In parallel with it, the wheel version of the ACS and the transport-loading machine are being developed.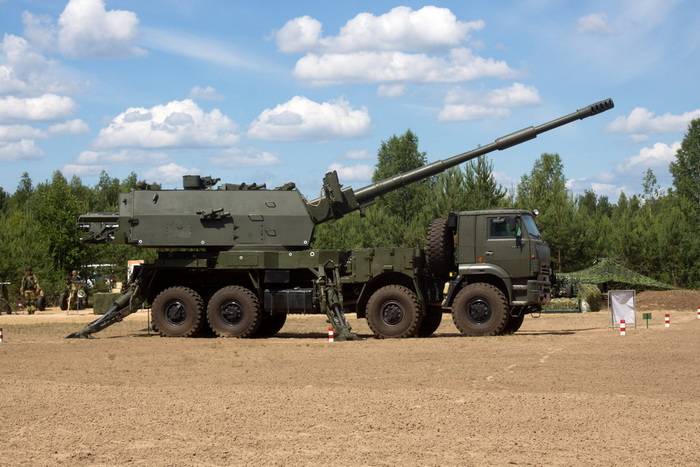 The wheel version is based on a reinforced four-axle KamAZ chassis. In a combat position, the artistema is hung on four powerful supports. Nevertheless, the commentators of the picture expressed doubts about the stability of the machine when turning the tower 90 degrees, especially given the frantic pace of shooting "Coalition". Thanks to the pneumatic automatic loader, the gun makes up to 16 rounds per minute - a world record.
Tower control is fully automated. The calculation of the SAU of three people is placed either in an isolated armored capsule (tracked version) or in an armored KamAZ cabin. Earlier it was reported that on the basis of the "Coalition" can be created coastal artillery for the Navy and a robotic artillery system, remotely controlled.
State tests of self-propelled guns will begin soon, said the chief designer of Uraltransmash, where they assemble the tracked Coalitions - the base for them was the chassis of another Ural self-propelled gun, 2-5 Hyacinth. First of all new
weapons
it is supposed to equip specialized artillery brigades, reports RG-Sil