The Kurds seize territory on the eastern bank of the Euphrates in the province of Deir ez-Zor. Five residents of Raqqah died as a result of mine explosions that the SDF fighters did not manage to defuse in time. Reports about it
FAN
with reference to Syrian sources.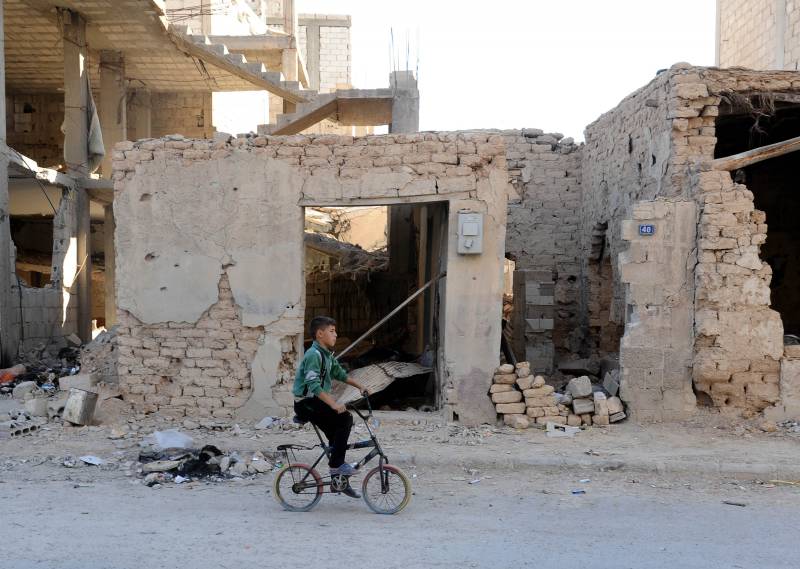 The divisions of the Syrian Arab Army (CAA) in connection with the intensification of attacks by the Islamists in the vicinity of Damascus in the past day conducted a massive series of attacks on their strongholds in Eastern Ghouta. Positions of militants were subjected to blows on the outskirts of settlements of Duma, Harasta, and also on the outskirts of the capital Dzhobar. Also, government forces conducted a point bombing of objects of armed opposition near the cities of Misrab and Madir.
On the eve of the contact line between the pro-Turkish militants of the Syrian Free Army (FSA) and the Kurdish detachments of the Syrian Democratic Forces (SDF), gunfights were again noted. The next clashes were provoked by the Kurds, who were the first to open fire on the fortifications of the SSA near the town of Darat Izza in the north-west of Aleppo.
The Kurdish "Democratic Forces" over the past day took a number of positions in the south of the province of Deir ez-Zor. Several strongholds of the IG grouping (banned in the Russian Federation) near the Al-Tanak oil field passed under their control. Thus, in recent times, the US-supported SDF units have advanced approximately 40 kilometers and as a result reached the Iraqi border. Like many recent rapid advances of the Kurds across the territory of East Deir-ez-Zor, this progress also caused skepticism among many military experts: they believe that the military successes of the SDF and the USA in this region are primarily the result of cooperation with the IG. Terrorists voluntarily surrender their positions in exchange for places in the future administration of the Kurds or part of the profits from the illegal sale of oil. At the same time, many militants of the IG join the ranks of the "Democratic Forces".
Six bombers Tu-22М3 RF Aerospace Force of the Russian Federation in the past day struck a new attack on the IG facilities in the valley of the Euphrates. As emphasized in the Ministry of Defense of Russia, all goals have been eliminated.
Militants of the Islamist group formed around Jabhad al-Nusra (banned in the Russian Federation), during the past day ten SSA militants were detained in the north of Idlib province. These groups have long competed in the region, hoping to form the most extensive zone of control in the province. So far, En-Nusra has the greatest influence in the region, but the Free Army hopes with the support of Turkey to seize control of Idlib.
In the city of Rakka, where demining of the territories had only recently begun after the release of the last IG detachments, in the past 24 hours explosions thundered again. The improvised explosive devices, laid down by terrorists before the surrender of their positions, worked. As a result, 5 civilians were killed, including two women.