On the eve of St. Petersburg fought with conditional sea pirates. According to the Department of Information and Mass Communications of the Ministry of Defense of the Russian Federation, in the waters of the Pella shipbuilding plant, the marines of the Joint Training Center (CLC) of the Navy practiced a method of exempting a civilian ship from sea pirates.
In particular, landing on a "suspicious" vessel was followed up with a subsequent inspection of the upper deck, as well as ship premises. Further, measures were taken to free the vessel from the conditional pirates who had captured it. The tug "Top" (project 04690) played the role of the vessel seized by pirates.
The Ministry of Defense cites the statements of the commander of the Marine Corps detachment, Lieutenant Commander Yevgeny Shakhnazaryan:
Such practical actions, during which elements on the main course of training the antiterrorist groups of the marines are worked out on board the ship, allow you to test your skills in an environment close to real.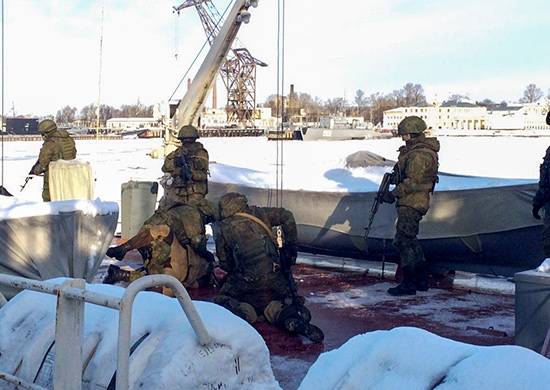 Statement by Captain of the 1 class, Leonid Zinchenko, Chief of the NSC of the Russian Navy:
For marines who arrived at the Joint Training Center of the Russian Navy from the Pacific, Northern, Baltic, Black Sea Fleets and the Caspian
flotilla
, such exercises are regular and allow in practice to develop in practice the skills that they receive at the Rzhevka training ground. In total, over the year we prepared about 700 marines of the fleets for anti-terror naval groups.