Six long-range Tu-22М3 bombers struck at the IG terrorist facilities (banned in the Russian Federation) in Deir ez-Zor province, reports
RIA News
message of the Ministry of Defense of the Russian Federation.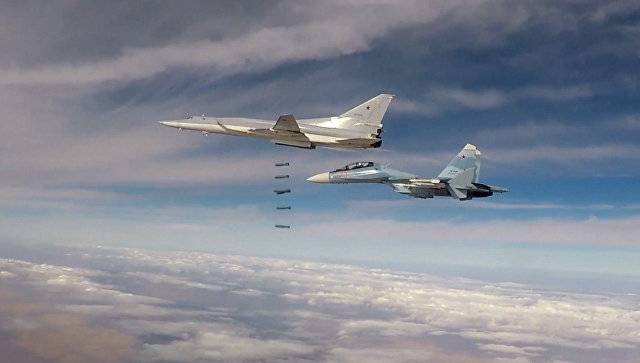 "Airplanes taking off from an airfield on the territory of Russia hit strongholds and a gathering of militants in the Euphrates valley. Destruction of targets was confirmed by means of objective control, "the release says.
It is reported that the bomber cover "was carried out by Su-30CM and Su-35С fighters based at Hmeymim airfield".
Far
aviation
For the fourth consecutive day, the Russian Aerospace Forces strikes at militants' targets in Syria.
After the liberation of the city of Al-Bukemal, the last major IS stronghold in this country, government troops, with the support of the VKS, are pursuing terrorists along the Euphrates River. In the near future, the Syrian command expects to completely liberate the western coast, which will allow defeating the remnants of the group in the east of the SAR.